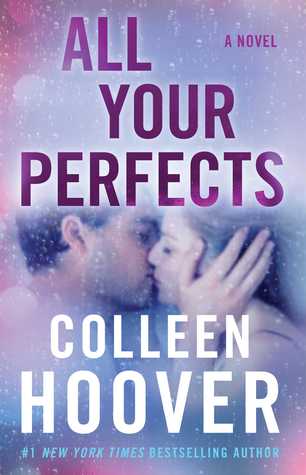 Title: All Your Perfects
Author: Colleen Hoover
Genre: Contemporary Romance
Type: Standalone
POV: First Person – Female
Rating:

Graham Wells met Quinn Whitley during the most unfortunate and awkward circumstances. Their unconventional beginning evolved into a whirlwind of passion and romance that led to a happy marriage. But as years passed and dreams were shattered, their seemingly perfect life slowly crumbled and forced them to reevaluate what they value the most in the relationship.
I didn't notice his sadness consumed him even more than it used to. I probably didn't notice because sadness is like a spiderweb. You don't see it until you're caught up in it, and then you have to claw at yourself to try to break free.

I understood Quinn's situation and sympathized her even though there were moments I wanted to shake her so she'd realize the implications of her actions or inactions. Through it all, Graham had been enduring his own heartache, quietly taking the emotional beatings for her sake. It was heartbreaking to see the breakdown of their marriage and how it changed them individually.
"I miss you, Quinn. So much. You're right here, but you aren't. I don't know where you went or when you left, but I have no idea how to bring you back. I am so alone. We live together. We eat together. We sleep together. But I have never felt more alone in my entire life."
I'm not normally drawn to books about marriage. I don't even share the couple's dream. But as a human being, I could still relate to their struggles and heartbreaks. The issue presented in this book is a raw look into a real life struggle of married couples. And unfortunately as portrayed in this book, it's an issue exacerbated by people's insensitivity.
All Your Perfects follows the journey of a couple's battle to save their disintegrating marriage. It would appeal to readers looking for an angsty and poignant romance.
This review is also available on Goodreads.