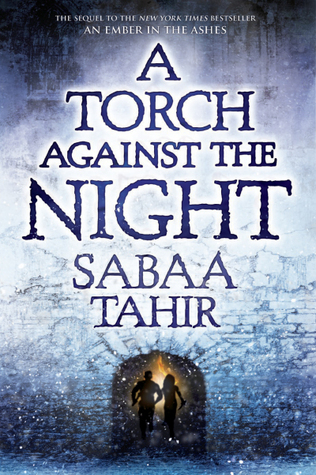 Title: A Torch Against The Night
Author: Sabaa Tahir
Genre: YA Fantasy
Type: Book 2 of 4 from An Ember in the Ashes series
POV: First Person – Multiple
Rating:

After escaping the manacles of Blackcliff, Elias Veturius and Laia were on the run. But freedom was still far from sight when they embarked on a perilous journey for a dangerous mission to Kauf prison. With the fate of the Empire in their hands, they must find a way to succeed in order to earn freedom not only for themselves but also for their people.
Helene Aquilla had always took pride in her loyalty to the Empire. As the new Blood Shrike she held considerable power but it didn't came easy. She had to prove herself and decide if it's worth killing her soul for.
I cannot show her the wounded parts of me. I cannot show anyone those parts.
I loved how in this book we get to see Elias as a different person. He was no longer the hard edged warrior (except when he needed to be), but a compassionate young man who would do anything for the sake of freedom.
I can't get close to her—not in that way. I can't let her get close to me. Doing so will only bring grief and pain. And she's had enough of that.
I was never a fan of Laia in book 1. Here there was an element that added intrigue to her character. I still didn't care much for her but I'm curious how it will all play out for the rest of the series.
Helene, oh my god how much I loved her. She has been my favorite since book 1. She was forced into a difficult situations with her hands tied behind her back. My heart broke for her suffering. I felt like this book is her book with how much trials and tribulations she had to endure.
Every heartbreak, every lost opportunity, every life cut short, the torment of those left to mourn—it tears through me endlessly. This is beyond pain, the pinprick heart of pain, a dying star exploding in my chest.
The story was basically about their journey to complete their missions with a mild cat and mouse chase. I enjoyed the angst and how the battle their own demons.
"Family is worthy dying for, killing for. Fighting for them is all that keeps us going when everything else is gone."
A Torch Against the Night follows the characters' journey of self discovery. I'm looking forward to their continuing story in the next book.
This review is also available on Goodreads.