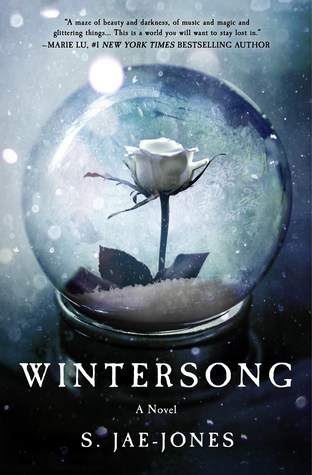 Title: Wintersong
Author: S. Jae-Jones
Genre: Fantasy
Type: Book 1 of 2 from Wintersong series
POV: First Person – Female
Rating:

Beside her family, music was Elisabeth (Liesl) Vogler's life. As a musician, she use her craft as an escape and also as something to hide behind. When her loved one was threatened, she made a deal with the mysterious Goblin King, but she never understood the degree of sacrifice it would take until she learned it the hard way.
The Goblin King had his tricks, but I had my stubbornness. We would see who prevailed in the end.
I have a weakness for tormented soul and the Goblin King is one. I love him right from the prologue where I could feel his vulnerability. And while I like his heart, I also like his trickery lol!
My eyes were open, but they could no longer trust what they saw, for it was not what they remembered.
Liesl was more of a constant hit and miss for me. I like how she was selfless and how much she was willing to sacrifice. But at the same time her self esteem issue was repetitive and a bit tiring.
"I am wildness and madness made flesh. You're just a girl"—he smiled, and the tips of his teeth were sharp—"and I am the wolf in the woods."
Before starting the book I was wondering how I could possibly like a goblin hero because they're supposed to be vile and ugly. But it was also the thing that intrigued me to pick up the book in the first place. I like how the author chose to feature creature that is not traditionally loved.
This book also captured my heart with the premise. There were bits of Greek mythology (which I love) weaved with fairytale and folklore. I love the Underground world and the creatures. However, I felt some part of the book was too slow for my liking.
I thought I had known the meaning of sacrifice. I thought I had known the meaning of suffering. But no, I had been a fool.
Wintersong is a story of love and sacrifices. It would appeal to readers looking for an emotion based fantasy.
This review is also available on Goodreads.