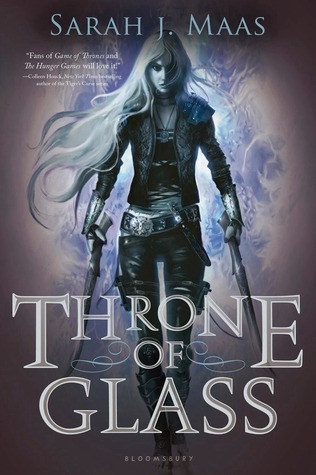 Title: Throne of Glass
Author: Sarah J. Maas
Genre: YA Fantasy
Type: Book 1 of 7 from Throne of Glass Series
POV: Third Person
Rating:

After a year of surviving the brutal life in the salt mine of Endovier, famed assassin Celaena Sardothien was given a chance to something she craved her whole life – her freedom. But freedom came with a catch. To earn one, she must fight others to become the King's Champion. But the journey to the coveted position turned out to be far sinister than she could imagined.
What was "Champion" but a dressed-up name for murderer? Could she actually stomach working for him?
Celaena might be feared assassin but she was still a girl after all. She can be bratty and annoying at times. I'm glad I read the prequel novellas first because I understand where she came from. So now her behavior was more amusing than annoying. And I like it best when she showed vulnerability.
There were two lead male characters in the story. I love how Celaena and Dorian Havilliard constantly challenge each other. And Chaol Westfall captured my heart with his fealty.
"You could rattle the stars," she whispered. "You could do anything, if only you dared. And deep down, you know it, too. That's what scares you most."
I enjoyed the overall storyline, especially all the actions towards the end of the book. It was darker than I anticipated. However, I couldn't feel the connection between the characters for the bits of romance that was there. Also, the plot was a little too predictable.
"What's the point in having a heart if you don't use it to spare others from the harsh judgments of your mind?"
Throne of Glass follows the journey of a young assassin towards a future that could change the world. It would appeal to readers looking for story of rising against the odd.
#TeamChaol
This review is also available on Goodreads.