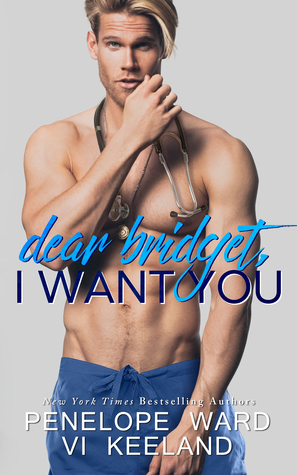 Title: Dear Bridget, I Want You
Author: Penelope Ward & Vi Keeland
Genre: Contemporary Romance
Type: Standalone
Expected Publication: September 18, 2017
From the New York Times Bestselling authors of Stuck-Up Suit and Mister Moneybags, comes a sexy new standalone novel.
Dear Bridget,
I'm writing this letter because it's highly doubtful I'll ever garner the courage to say this to your face.
So, here goes.
We're totally wrong for each other. You're the proper single mum with a good head on your shoulders. I'm just the carefree British doctor passing through town and temporarily living in your converted garage until I head back to England.
But here's the thing… for some bloody reason, I can't stop thinking about you in very inappropriate ways.
I want you.
The only reason I'm even admitting all of this to you right now is because I don't believe it's one-sided. I notice your eyes when you look at me, too. And as crass as I appear when we're joking around about sex, my attraction to you is not a joke.
So, what's the purpose of this note? I guess it's a reminder that we're adults, that sex is healthy and natural, and that you can find me just through the door past the kitchen. More specifically, it's to let you know that I'm leaving said door cracked open from now on in case you'd like to visit me in the middle of the night sometime.
No questions asked.
Think about it.
Or don't.
Whatever you choose.
It's doubtful I'll even end up sliding this letter under your door anyway.
–Simon
Pre-order at:
ARC provided in exchange for an honest review.
Simon Hogue was a British doctor finishing his residency in Rhode Island. Knowing his stay was just temporary, he wasn't looking for any deep emotional relationship attachment. But somehow a woman had him hooked.
Bridget Valentine came with a baggage that most would avoid. She had other priorities in life than to get lost in superficial attractions. However, after years of being alone, she wanted to start living again even though she wasn't sure if she's ready to move on.
Whenever I read Penelope Ward and Vi Keeland's book, there's one thing for sure – I will be entertained. This book certainly lightened my dark heart lol!
I wanted to be back at home with Bridget in the worst way. Back at home with Bridget. What the fuck? It wasn't my home. My home was in England.
I love Simon. He was charming and cheeky, and sexy in the way that makes you have a goofy smile.
It shouldn't have happened, and yet I couldn't turn my body off tonight, couldn't stop thinking about him.
Bridget had more serious, matured personality, but it didn't mean she didn't know how to have fun. I like how she was responsible and nurturing.
I like the light, fun storyline. But in between those, there were also some sad and heartwarming moments. One thing I wish for more is the sexy time because I know the authors are capable in delivering some sexy scorchers lol!
I want you. Wrong as it may be… more specifically, I want to make you come. Hard.
Dear Bridget, I Want You is a story of a couple taking a chance in happiness. It would appeal to readers who enjoy light, fun reading with a dash of heart.
Final Verdict:
This review is also available on Goodreads.