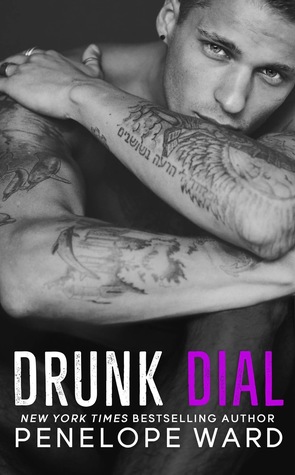 Title: Drunk Dial
Author: Penelope Ward
Genre: Contemporary Romance
Type: Standalone
POV: First Person – Female
Expected Publication: August 21, 2017
From New York Times bestselling author Penelope Ward, comes a new, sexy standalone novel.
It seemed like a good idea at the time. Look up Landon Roderick, that boy from childhood whom I'd never been able to forget—even though he so easily forgot about me—and call him.
Then again, anything sounds like a good idea when you've had a little too much wine before bed, right? It was supposed to be just a quick, meaningless, prank call. Instead, I went off on him—unloading thirteen years of pent-up emotions.
I didn't think he'd call me back.
I certainly could never have anticipated the weeks of sexually tense phone conversations that followed as I got to know the man he'd become.
Turned out, Landon had never really forgotten me, either. That special connection we had was still there. I opened up to him, but there were also things about me he didn't know. And he had his own secrets.
Over the countless hours we talked on the phone, I wondered what would happen if we actually saw each other. One night, I did something impulsive again. Only this time, I went to the airport and booked a ticket to California. We were about to find out if one phone call could bring two lost souls together or if my drunk dial really was all just a big mistake.
A complete STANDALONE.
Pre-order at:
Paperback |  B&N  |  iBooks  |  Kobo
ARC provided in exchange for an honest review.
Rana Saloomi lived a safe but lonely life. As a belly dancer, she revealed herself to the world, but protected her heart from the possibility of being hurt. One drunken night led to a phone call to a boy from her past and the chance for fulfilling future.
Landon Roderick was no longer the clean cut boy Rana used to know. The tattooed hottie went away to searched for answers only to find his true self. Everything was going well in his life until she reappeared and made him realize what he's been missing.
His hands may have been calloused; his arms may have been inked; he may have looked dangerous, but Landon was as gentle as he was protective.
I really like Landon's laid back personality. He was funny, attentive and protective. And I have to admit visualizing the cover model as the character helped a lot in making him sexy for me lol!
"You're obsessed with the idea of me— the mystique. The reality is a mess."
Rana was highly likable. She was kind, but sometimes her insecurities held her back.
The story overall was very entertaining. The two characters really clicked with each other. I love their background stories with how they met and found each other again. The secondary characters also added layers to the story. There were plenty of funny moments and sexy moments to satisfy anyone's needs.
"It's funny how the things that we once looked at as tragic are exactly what needed to happen, in retrospect."
Drunk Dial is a story of a couple finding each other again, and completing the missing pieces. It would appeal to readers looking for a lighthearted second chance romance.
Final Verdict:
This review is also available on Goodreads.
Facebook | Website | Twitter | Instagram | Pinterest | Goodreads | Private Fan Group
Penelope Ward is a New York Times, USA Today and Wall Street Journal Bestselling author. She grew up in Boston with five older brothers and spent most of her twenties as a television news anchor, before switching to a more family-friendly career. She is the proud mother of a beautiful 11-year-old girl with autism and a 9-year-old boy. Penelope and her family reside in Rhode Island.