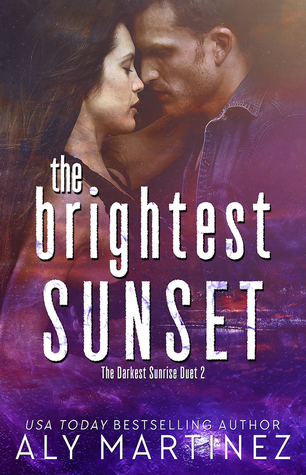 Title: The Brightest Sunset
Author: Aly Martinez
Genre: Contemporary Romance
Type: Book 2of 2 from The Darkest Sunrise duet
POV: First Person – Dual
Rating:

Just as Charlotte Mills thought her nightmare finally over, a new one emerged from the horizon bringing in a new set if heartache. With her relationship with Porter Reese in jeopardy, she must decide what's best for everyone and herself.
I was falling apart. But I was also the only one left to pick up the pieces.
At the end of book 1, I knew there'd be a lot of heartache in this book. With the situation they were thrown in everyone was bound to get hurt, especially those who were innocent.
"This is our life and you know it. We'll figure out the details later, but for now, all I need from you is a promise that we are going to do this. No matter what. We're in this together."
Both of them had their hands tied down one way or another. It was both sad and frustrating seeing how they were helpless in fixing the situation.
Without her, I'd still be lost in the hate and pain.
I like the story overall with how it played with my emotions. However, I felt like the plot was too linear. I was hoping for something more… dramatic.
The Brightest Sunset is a story of a couple thrown into a difficult situation they couldn't control. The fast pace series would appeal to readers looking for an engaging family drama romance.
This review is also available on Goodreads.