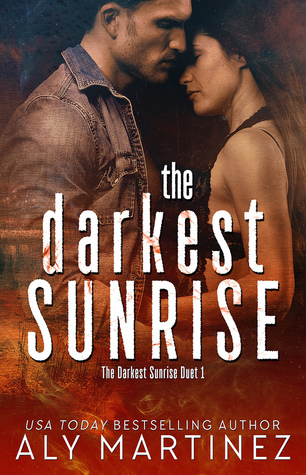 Title: The Darkest Sunrise
Author: Aly Martinez
Genre: Contemporary Romance
Type: Book 1 of 2 from The Darkest Sunrise duet
POV: First Person – Dual
Rating:

Charlotte Mills was a well know expert in her field. As a doctor, she dedicated her life to her career and her patients. But she did it for a purpose – to distract her from her crumbling past. Being in the darkness has taken a toll on her until she found someone who showed her how much she had missed in life.
Porter Reese recognized the pain in Charlotte's eyes. Having his own demons to fight, he knew what it's like to be crippled by the past. He would do anything to make sure she's happy, but sometimes happiness took a lot more work to achieve.
I'm glad I finally had time to read this one. I had no idea of what the book is about before reading. It turned out to be a bonus for me because it involved a subject matter that touched my heart.
But how do you move forward when all you really want is to go back?
Charlotte was a broken woman. She put on a mask to show the world how she was fine when she was far from it. I could feel the thorns in her heart.
Porter might have wanted company in the darkness. But, with a single taste of the warmth, I wanted to bask in the sunlight.
I think Porter was such an amazing male character. He was not whole, still, he's not only fully functional, but also could provide rays to brighten other people's lives.
It was a truth and a fact not even I could deny. Mine. It was my fault. Always and forever.
The storyline was interesting. The fast pace story made me want to race to the finish line to find out the truth. However, I had my theory at the very beginning which made the ending non surprising for me. Good thing I still enjoyed the journey.
The Darkest Sunrise is a tale of two people bound by darkness working their way out into the light. It would appeal to fans of romance with element of suspense.
This review is also available on Goodreads.