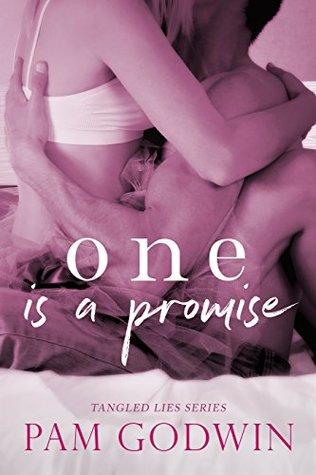 Title: One Is A Promise
Author: Pam Godwin
Genre: Contemporary Romance
Type: Book 1 o 3 from Tangled Lies series
POV: First Person – Female
Expected Publication: June 6, 2017
One promise.
One forever.
One look and I knew Cole was mine. My dark rebel in leather. My powerhouse of passion, devastating smiles, and impulsiveness.
When his job sends him overseas, he promises to return to me.
A promise that's destroyed in the most irrevocable way.
Two years later, an arrogant suit invades my heartbroken loneliness.
Clean-cut and stern, Trace is everything Cole wasn't.
At first, he's a job that will rescue my dance company. But as he intrudes on my life, our hostile relationship evolves.
He knows I'm still in love with Cole, but his dedication is my undoing.
Then a catastrophic moment changes everything.
Promises resurface.
Lies entangle.
And an impossible choice shatters my world.
I love two men, and I can only have one.
Pre-order at:
ARC provided in exchange for an honest review.
Four years ago Danni Angelo found her soul mate in Cole Hartman. They had a blissful whirlwind romance when fate suddenly wrenched them apart. Still reeling from her lost, she focused on her job as a dancer. Her sensual moves captivated her audience including a hard to please man.
Trace Savoy entered her life with a business proposal. Always getting what he wanted, he kept Danni close enough for his purpose. But his hot and cold demeanor was wreaking havoc to her heart and she must decide if he's worth for her to finally move on.
I love books that split readers into choosing side. By just the blurb alone, I knew which team I'd be leaning to lol!
He might be moody and layered with mixed signals, but there's something underneath it all, something behind the stuffy suits that calls to me, awakens me, makes my heart flutter like a baby bird.
Trace was a cranky, demanding hero. He was infuriating but his sexiness saved him from being an ass. And I do admire his restrain and determination.
I love being pressed against his body. I want him soldered to me from lips to feet.
Danni was fun, outgoing and daring. But that also meant she thinks with her heart. While her situation was understandable, there were also times when she drove me crazy with her actions. I can't help feeling distressed because I'm OCD like that haha!
He's the epitome of eloquent power and affluence, intimidation and mystery. A modern lord at ease with commanding and conquering, and for a knee-weakening moment, his sights were trained on me.
There were a lot of tension between Danni and Trace. I like how that helped making their encounters scorching. They were complete opposite and I love how she kept testing his patience, taunting him to break.
From the beginning, readers would know where the story is going considering the type of story this series is about. And I also ended up figuring the details of the revelation to a certain degree quite early on. It did take away the element of surprise for me, but I still enjoyed the shift in the story.
"My life began the day we met. There is no before. Only you."
One Is A Promise follows a woman's journey in moving on and finding her one true love. I'm looking forward to see how the story will evolve in the next book.
Final Verdict:
This review is also available on Goodreads.
Website   |   Goodreads   |   Facebook  |   Twitter  | Pinterest |  Instagram  |  Bookbub    Amazon
New York Times and USA Today Bestselling author, Pam Godwin, lives in the Midwest with her husband, their two children, and a foulmouthed parrot. When she ran away, she traveled fourteen countries across five continents, attended three universities, and married the vocalist of her favorite rock band.
Java, tobacco, and dark romance novels are her favorite indulgences, and might be considered more unhealthy than her aversion to sleeping, eating meat, and dolls with blinking eyes.