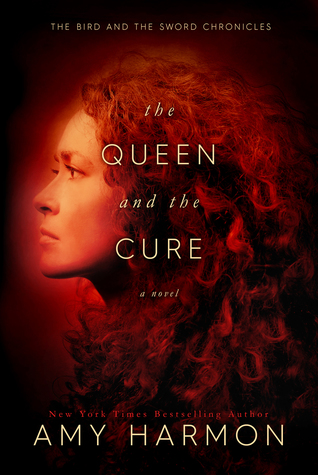 Title: The Queen and the Cure
Author: Amy Harmon
Genre: Romantic Fantasy
Type: Standalone Book 2 of The Bird and the Sword Chronicles
POV: Third Person
Rating:

Kjell of Jeru was the King's bastard older brother. As a warrior he was feared and respected, and never desired for the throne. A few years after the attack on Jeru, the Volgars were dwindling and Kjell was determined to eradicate them completely. During one of his mission, he stumbled upon a strange woman.
Sasha came from a small village in trouble. Even though she could see glimpses of the future, her position in the society rendered her useless. While she could foresee the future, she couldn't recall anything from the past. Feeling indebted to Kjell, she bound herself to him, unknowingly altering the course of their lives.
I love Kjell in book 1 and was excited when I found out he's getting his own book so I had a high expectation for this one. It isn't what I hoped but I still enjoyed it at the end.
He understood duty and hopelessness. He understood trying to hold a kingdom together when it was falling apart.
What I love the most about Kjell in previous book was his loyalty and valiance. I also like his brusqueness. However, in this book I feel like his personality was much more muted. I like that he tried to fight his heart, but I rather he not succumbed to it too quickly.
"My conscience demands that I acknowledge you. My duty demands that I deny you,"
I'm so glad I end up loving Sasha. She was fearless, stubborn and loyal. I love how she tirelessly strived to be her best no matter which situation she was thrown into.
The book started a little too slow for my liking. Earlier in the book the fantasy element was minimal and took almost 60% before it started to pick up. But once it kicked in, it came alive and helped propelled the book to the end.
A volley of arrows whistled from the ramparts into the writhing swarm, and the shrieking of the Volgar swelled to screams.
Personally, I feel the storyline was predictable, but I don't mind much after the change of pace. Everything that happened after that point was exciting. My favorite scene was the tree scene outside Caarn because I got back the bits of Kjell personality that I previously love.
"I remember, but I have not forgotten."
The Queen and the Cure follows the lives of two people bound by fate and the life they must learn to accept. It would appeal to readers looking for an adult fantasy romance.
This review is also available on Goodreads.