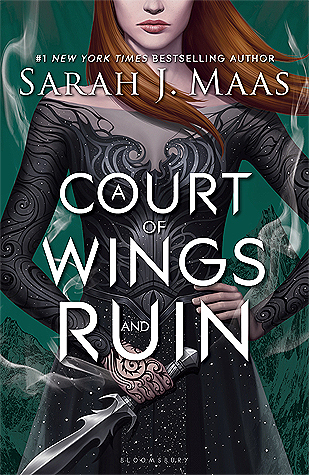 Title: A Court of Wings and Ruin
Author: Sarah J. Maas
Genre: YA Fantasy
Type: Book 3 of A Court of Thorns and Roses series
POV: First Person – Female
Rating:

Feyre had sacrificed a tremendous amount since she first arrived in Prythian. As plans got in motion, the lines between truths and lies became blurred. She must decide who were friends and who were foes in the ultimate battle of survival.
After the end of ACOMAF, I had hopes and fears of what's going to happen in this book. Apparently a lot of things went down and I love every moment of it.
I would clean my blades, and wash the blood from my skin. And I would do it again and again and again.
Throughout the series, it is indisputable that Feyre is a badass heroine. The things she went through and had to do would probably make some men's balls shrivel up haha! However, even though I can easily relate to her, I'm just incapable of liking her that much. That's probably because I like Amren too much lol!
"Because you're my equal," he said. "And as much as that means having each other's backs in public, it also means that we grant each other the gift of honesty. Of truth."
As for Rhysand, I'm pretty sure everyone love him. What attracted me the most to him is his passion. I don't mean in the romance aspect, but rather in his life philosophy. It is an admirable quality.
"We're all broken," Mor said. "In our own ways—in places no one might see."
As much as I love Rhys, every single one of the secondary characters was also memorable. Each if them had their own strengths and weaknesses that made them special. And of course I love all the bickering lol!
"But this is war. We don't have the luxury of good ideas—only picking between the bad ones."
There were a lot of things that happened throughout the book – inner strengths were challenged, loyalties were tested. I love them all especially the scenes that involved creatures. However, I do have a little problem with the ending. I somewhat felt cheated with how things unraveled towards the end in regards to certain characters.
A Court of Wings and Ruin is an engaging tale of facing demons and rising up against the odds. Even though it's the conclusion of Feyre and Rhys exploits, the story is left opened for the next book in the series. I'm hoping for my favorite secondary characters to finally earn their spotlight.
Note:
I know a lot of people hate one particular character, but I've love that person since the beginning no matter what 😋. #HatersGonnaHate #SorryNotSorry 
This review is also available on Goodreads.