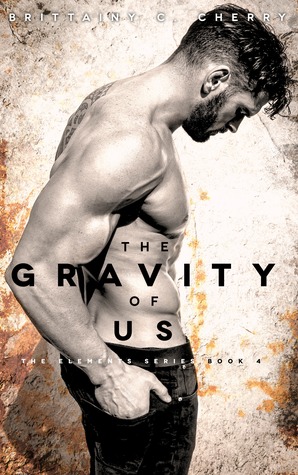 Title: The Gravity of Us
Author: Brittainy C. Cherry
Genre: Contemporary Romance
Type: Standalone Book 4 from Elements series
POV: First Person – Dual
Expected Publication: April 13, 2017
Graham Russell and I weren't made for one another.
I was driven by emotion; he was apathetic. I dreamed while he lived in nightmares. I cried when he had no tears to shed.
Despite his frozen heart and my readiness to run, we sometimes shared seconds. Seconds when our eyes locked and we saw each other's secrets. Seconds when his lips tasted my fears, and I breathed in his pains. Seconds when we both imagined what it would be like to love one another.
Those seconds left us floating, but when reality knocked us sideways, gravity forced us to descend.
Graham Russell wasn't a man who knew how to love, and I wasn't a woman who knew how to either. Yet if I had the chance to fall again, I'd fall with him forever.
Even if we were destined to crash against solid ground.
Pre-order at:
ARC provided in exchange for an honest review.
Lucille (Lucy) Palmer was a free spirit. She was as bright and lovely as the flowers in her shop. She was never one to shy from embracing her emotions even if it's against a heartless man.
Graham Russell was an award winning fiction author. His books might have heart, but the man himself avoided showing it in real life. That was until she entered his life and showed him what it meant to live a fulfilling life.
I always love books that evoke emotions and I know Brittainy C. Cherry is capable of doing that. This book surely succeeded in that matter.
She was the girl who felt everything, and I was the man who felt nothing at all.
If there's one fictional character I could easily relate to, it's Graham. He's cold, apathetic and pretty much an asshole. I feel like I'm the real life reflection of him – except the asshole part (Well, at least I hope not haha!). But behind the facade, he had the capacity to open up his heart.
She was the one thing off-limits, and the only thing I'd ever craved.
Lucy was the complete opposite of Graham. If they were books, he would be a non HEA mystery and she would be a rainbow farting unicorn romance. She brought light and happiness into people's lives without being annoying.
Heartbreak took love and mutilated it, humiliated it, scarred it. Heartbreak slowly began to freeze heartbeats that had once been so welcoming to love.
I was excited to read this book, but as I progressed, I started to doubt it. I like both characters, but I wasn't "feeling" it. It took close to 70% for it to stir something in me, but as soon as it did, it was an emotional assault, and that's a good thing in my book lol!
"Being around you does something strange to me, something that hasn't happened in such a long time."
"What happens?" He took my hand in his then led it to his chest, and his next words came out as a whisper.
"My heart begins to beat again."
I like how Graham evolved organically. There's nothing worse when a character flipped like a switch. The writing as usual is beautiful with plenty of quotable sentences.
The Gravity of Us revolves around two individuals who help tether each other to the ground while learning to enjoy the high of life. It would appeal to readers who like to embrace their emotions.
Final Verdict:
This review is also available on Goodreads.
Website |  Newsletter | Goodreads |  Facebook | Twitter
Hi! I'm Brittainy! Join me as we travel through my mind as a Romance Author. This includes such things as my random thoughts, tricks, tips, things I'm learning, things I'm re-learning, things I'm forgetting, and my weird ways of crafting stories.