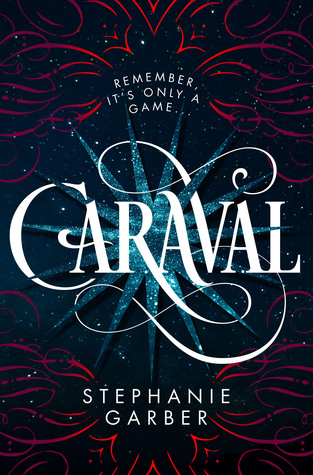 Title: Caraval
Author: Stephanie Garber
Genre: YA Fantasy
Type: Book 1 of Caraval Duet
POV: Third Person
Rating:

Scarlett and Donatella (Tella) Dragna were sisters who grew up under the iron fists of their father. They escape their harsh reality by the magical stories of the Caraval game from their late grandmother. Enchanted by it, Scarlett had been writing to game master, Legend to bring it to her island. For seven years she heard nothing back, until she finally received an invitation she couldn't refuse – the chance to play the game with the ultimate prize.
I've only recently started reading YA and I kept seeing this book on Instagram. I got curious and took a closer look at it. Immediately I knew I need to read it because like the sisters, the allure was inescapable.
She knew better than to assume any type of game came without a cost.
I like how protective Scarlett was of Tella. She would do anything to make sure her sister is safe. However, there were also a lot of times when she appeared to be too naive.
There was simply something wild about Julian that could not be tamed by Legend's garments.
I really like how there were many characters throughout the story. It was interesting to learn about their roles and to decide which side they're on. Two notable characters were Julian and Dante. And each came with his own appeal.
What attracted me to the book was the theme. I love everything about circuses and carnivals, so those elements alone helped me enjoyed the book. I also like the magic and the mystery behind the characters' decisions and actions because it kept me questioning what to believe.
"It's just a game, Crimson. Those people were only playing. If you want to win you have to be a little bit ruthless. Nice is not what Caraval is about."
However, the ending lacked impact. Even though there was one thing that surprised me, others were pretty much predictable. Considering the theme, I was expecting something with more grandeur.
Finally she understood what Tella meant when she'd said there was more to life than being safe.
Caraval is a captivating journey of deceptions and trusts amidst a world weaved by magic. It would appeal to fans of fantasy with a tinge of magic
This review is also available on Goodreads.