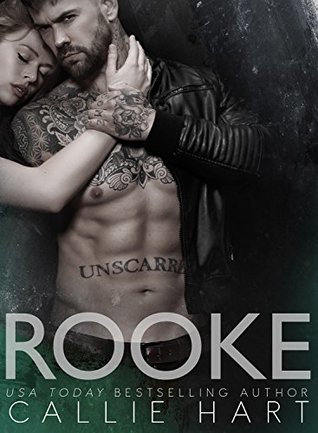 Title: Rooke
Author: Callie Hart
Genre: Contemporary Romance
Type: Standalone
POV: First Person – Dual
Release Date: March 14, 2017
Watchmaker. Car thief. Heartbreaker extraordinaire.
Rooke Blackheath has spent enough time in juvie to know that he really doesn't want to go to jail. The food sucks, the clothes itch, and there are absolutely no women in sight. Well…none he wants to fuck, anyway.
He should probably stop boosting cars, but the money is stellar and the high is out of this world. And why should he turn his back on something that sets his soul on fire anyway?
The answer to that question comes in an unexpected form—a petite five-foot-three firecracker named Sasha, who refuses to give him the time of day no matter how thick he lays on the charm.
Rooke's not easily deterred, though. Just like the watches he builds from scratch, Rooke knows all too well how women tick. Women are a game to him. A game he always wins.
Sasha doesn't stand a chance.
***
Sasha Connor's life has been permanently derailed since her son died five years ago. You wouldn't know it to look at her, of course. She has a great job, a beautiful house, and caring friends. Every week, she hosts a book club featuring the sexiest, most romantic stories on the planet, and every week she falls for a new fictional knight in shining armor.
Fictional men are perfect. They don't hurt you. They don't break your heart. They don't cheat on you after your child dies, and they rarely ever leave the toilet seat up.
When Rooke Blackheath shows up at Sasha's workplace, it's clear he's nothing like the men who grace the pages of her favorite books. Dangerous, arrogant, sharp-tongued and sarcastic, Rooke's not the kind of guy she needs in her life. Not to mention the fact that he's eleven years her junior.
As far as Sasha is concerned, Rooke doesn't just live in a different world. He lives in a different galaxy altogether. She'd like to keep it that way, but fate appears to have other plans.
When Cinderella lost her shoe, Prince Charming showed up at her door.
When Sasha Connor loses her book, an entirely different kind of rogue comes a-knocking.
Pre-order at:
ARC provided in exchange for an honest review.
From outside perspective, Sasha Connor might look like she had everything in her life in order. As a museum curator, she was competent in handling her job, but her personal life was a whole different matter. Still reeling from her personal tragedy, she had hard time opening up her heart until a handsome rogue crashed into her life.
When Rooke Blackheath walked down the street, people went out of his way. Being a watchmaker was only one part of his job description. He lived a dangerous life without a care in the world. That was until his heart got stolen.
Based on the cover and the blurb, I actually expected a different kind of story.
The way he studies things, including people, is quite disturbing. He looks beyond the surface, beyond what you might want others to see, and he delves deeper.
Rooke was a bad boy. He was young and reckless. But he could also be matured and responsible when he chose to be.
I'm attracted to the dark ache in her soul, because it's something I can understand. Something that feels real to me.
Sasha seemed like a prim and proper lady. She put work in maintaining a facade so other people couldn't breach her shell. But behind the facade, she longed for all the things she tried to protect herself from.
I do like their relationship dynamics. The way they met and connected was something different and for a reader, there's the relatability factor. The story was a lot more mellow than I expected but I didn't mind much until the story changed direction.
It's strange to admit that there were benefits to being locked in such devastating grief, but it's true. There were benefits. One of them was that I never had to apologize for anything.
I would expect to like the new direction more, however with the faster pace, I felt the story actually fizzled instead of propelled it. I like that the plot was moving, but there was nothing extraordinary about it. Everything was just scratching the surface when there were a lot more that could have been delved deeper for the questions to be answered more properly.
Rooke is a story of two people from a different side of the track who found common ground in understanding each other. It would appeal to romance lovers who like a shot of suspense in their reading.
Final Verdict:
This review is also available on Goodreads.
Website   |   Goodreads   |   Facebook  |   Twitter |  Instagram  |  Amazon
Callie Hart is a USA Today bestselling author of dark romance novels. She is an obsessive romantic who loves throwing a dark twist into her stories. Her characters are imperfect, flawed individuals who dictate when she eats, sleeps and breathes. She loves to travel, and often pens her books when she's on the road, drawing inspiration from her often unique and wild surroundings.
If she's not writing, you'll undoubtedly find her with her nose buried deep in a book, or binge watching Game of Thrones.