Title: The Velvet Chair
Author: C.P. Mandara
Genre: Erotica
Type: Book 1 of Velvet Lies series
POV: First Person – Dual
Publication Date: February 6, 2017
"Oh, darling. You're going to be so easy to conquer." His finger reached under my chin and pulled my face back to meet his. "I can't wait to strip you out of that dress and watch you crawl around my home naked. I'm going to spank that delectable ass with every damn pervertible I can find. Hairbrushes, wooden spoons, spatulas, and I might even try a damn baking sheet. That ass of yours is always going to be prettily pink and perfectly swollen while you're under my roof."
My name is Mark Matthews. I own half of London, and the part I don't own, I'm working on.
Life was all going swimmingly well until Michael Redcliff entered my life, demanding that I marry his daughter. Actually, swap demand for blackmail. He's got goods on me that I want no one else to see, so for the time being I need to be his little lapdog.
I'll marry his daughter. I'll give him all the status, money and power he can handle… for as long as it takes me to get a divorce. You see, I can't renege on our little arrangement – but she can. I give her a week. One week and she'll be screaming the place down for her legal counsel.
I am never wrong.
ARC provided by the author in exchange for an honest review.
As a Dom, control was second nature to Mark Matthews, but his own life was far from it. After being blackmailed into a marriage of inconvenience, he was determined to make sure it ended before the damage could be done.
Jennifer Redcliff endured a lot if things when she was at Albrecht Stables. And she thought that would help her endure her marriage with Mark. But he wanted his payback and he would get it one way or another.
After the deliciously kinky Pony Tales series, it's good to be reunited with Mark and Jennifer. There's no pony tail butt plug in sight in this one, still it is far from vanilla lol!
Believe it or not, some days it was hard being an alpha asshole.
Mark was as sexy as ever. He could be ruthless when trying to teach Jennifer a lesson, but he also had a softer side.
She was a viper, and her venom was deadly.
It looked like Jennifer could never have a break. Despite that, I like how rebellious she was. She would definitely be a fun sub to own haha!
I decided then and there, that if I was going to drown I was going to sink into the deepest depths of depravity with him, and embrace a whole new world.
I thought the story was interesting especially the arena scene. That'd be something I'd like to watch :p I like how the writing was descriptive which helped transport the readers to the location, but I felt some parts (with characters' actions) was a bit too long.
"Oh, and this isn't my fist. We can try that later. Three fingers versus a fist is a whole different ballgame, but I have a feeling you might enjoy it."
The kinky scenes are always a pleasure to read. Both of them tried to make each other's life a hell, so that guaranteed some interesting situations. One thing I love is how the author tend to have F/F scenes here and there. I always look forward to those hot bonuses lol!
The Velvet Chair is a story of attractions and manipulations. It's a continuation of Mark and Jennifer's story from the Pony Tales series. Technically this series can be read on its own, but I highly recommend reading the original series first to fully appreciate the characters dynamics.
Final Verdict:
This review is also available on Goodreads.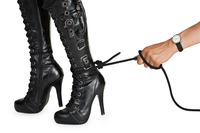 Website  |  Goodreads  |  Facebook |  Twitter
Christina Mandara was born in the UK, but has spent most of her life travelling the world. She speaks three languages and has been chiefly employed in the fields of finance and travel. Her favourite city is Sydney and her favourite holiday destination is the south of France.
She loves keeping fit and enjoys running, cycling and water sports. No, not those kinds of water sports; think surfing or sailing. That doesn't mean that she doesn't enjoy BDSM in all of its glorious forms, be that pony girls, bondage, edge play, orgasm denial or a damn good spanking. Her favourite item in the toy closet (a box simply isn't big enough) is her riding crop.
In her spare time she's usually cuddled up with a good book, exploring the countryside or baking in the kitchen. In fact, she loves her kitchen so much she's one of few woman who wouldn't mind being tied to it! Her first and foremost love is writing, however, and more often than not you'll find her on a laptop spinning tales of romance, erotica or dark, paranormal fantasies.
Those in the BDSM world might wonder whether Ms Mandara is a top or a bottom. Is she currently training a herd of pony boys or is she stabled up, in full leather tack, with the pony girls? It's a good question. Answers on a postcard please or try and figure it out yourself by visiting Ms Mandara's blog:www.christinamandara.wordpress.com
Click image to enter giveaway!