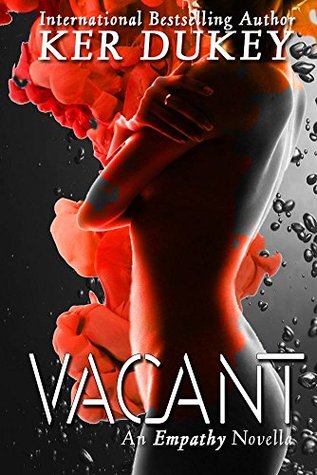 Title: Vacant
Author: Ker Dukey
Genre: Dark Suspense
Type: Book 2.5 from Empathy series
POV: First Person – Dual
Rating:

A year after she thought she lost the one person she could relate to, Cereus tried to live a normal life as an art student. But feeling normal was hard when she felt empty inside especially when her own darkness is desperate to come out.
Unknown to her, Ryan was never far behind. Quietly, he watched her struggled, never showing her full potential. There's only one way to make her happy and he was not going to let her slip away.
She wove herself deep inside me, owning me. I'm hers and she's mine. I need to go to her.
I love the dynamics of their relationship. It seemed wrong, bordering on taboo, but it worked. Their connection was unconventional and that what made it special.
We're made from the same soul, fractured and forced into two bodies, and mine craves his presence, his love and his touch.
Both of them were technically very similar, but practically different. Their minds worked differently but with common goal in sight. I like seeing how they individually cope with the situation they're in.
Ryan turned the lights out and taught me to see in the darkness.
Vacant shows what Cereus is capable of without actually letting her be at her full potential. I'm looking forward to more depravity in the next book.
This review is also available on Goodreads.