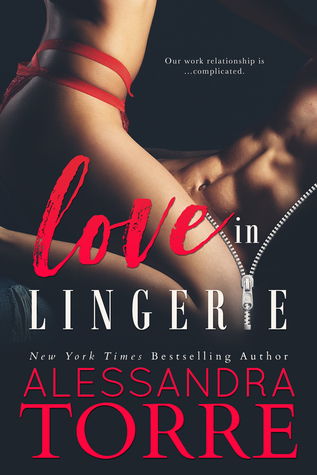 Title: Love In Lingerie
Author: Alessandra Torre
Genre: Contemporary Romance
Type: Standalone
POV: First Person – Dual
Publication Date: January 16, 2016
I hired her to fix my company, to bring Marks Lingerie back to life. I didn't expect her to become my friend. I didn't expect to fall in love with her.
The first rule of business is to never touch your employees. I think there is another rule about not falling for your best friend—a rule against imagining the curves of her body, or the way her breathing would change if I pulled down her panties and unzipped my pants.
Now, I can't wait any longer. I'm tossing out the rules.
Damn the company.
Damn our friendship.
Damn my fears.
ARC provided by the author in exchange for an honest review.
It's Trey Marks' business to understand women's body. As owner of the sinking Marks Lingerie he needed someone to revitalize his brand. But when the new hire came in, his heart (and cock) craved more than what her job required.
Kate Martin needed the job as Creative Director for Marks Lingerie. What she didn't realize was how much temptations there'd be to distract her. But what started as innocent flirty friendship evolved into tension filled encounters that threatened to derail their friendship.
"This is market research, Kate. I'm just examining the product. Now, open your legs before I pull them apart myself."
Trey was a fun, flirty young at heart hero. I like how he could be seductive and playful without being a cocky ass.
No one else can hurt me like this. No one else's opinion is as important. No one else can break my heart as easily as he could mend it.
Kate was a driven career woman. And I like how she's still vulnerable when it came to matters of her heart.
I really like their friendship. It was cute how they acted around each other. I actually like them a lot more as friends with the constant sexual tension. They also had a good chemistry together. I felt like those qualities kind of lost once they were officially together especially with limited time to establish that new dynamics.
If my need was lingerie, it'd be blood-red, with lines that scream for attention.
One of my favorite elements in the book is when he compared his situations with types of lingerie. It was entertaining to see how he interpreted them.
Love In Lingerie is a light, flirty, sexy office romance. It would appeal to readers looking for fun, minimal drama, friends to lover story.
Final Verdict:
This review is also available on Goodreads.
Website |  Facebook |  Twitter  | Pinterest  | Amazon  |  Goodreads
Alessandra Torre is an award-winning New York Times bestselling author of ten novels. Her books focus on romance and suspense, all with a strong undercurrent of sexuality. Torre has been featured in such publications as Elle and Elle UK, Dirty Sexy Funny with Jenny McCarthy, as well as guest blogged for the Huffington Post and RT Book Reviews. She is also the Bedroom Blogger for Cosmopolitan.com.