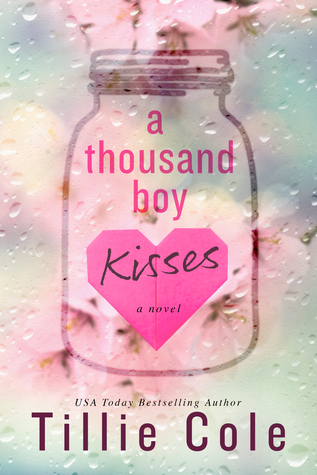 Title: A Thousand Boy Kisses
Author: Tillie Cole
Genre: YA Contemporary Romance
Type: Standalone
POV: First Person – Dual
Rating:

"
Poppy Litchfield was only 5 years old when a new boy moved in next door. They became fast friends and had been inseparable since.
Rune Kristiansen had plenty of adventure with Poppy. When they were separated, things completely changed between them. When he finally came back, both of them no longer knew each other. But when the truth that divided them came to the surface, they must decide how to make the love they once had worth all the pain.
I had this one under my ugly crying list for a while now but been pushing it back due to the age range. I'm glad I finally read this and enjoyed it regardless of their ages.
"I'll give you a thousand kisses, Poppymin. All of them. No one will kiss you ever, but me."
I love Rune. It hurt to see how he evolved from an innocent kid to what he became towards the end of the book. I felt and understood his pain, his fear and his anger.
Being loved by Rune brought the heady sensation of warmth. Being hated by Rune was like standing on an arctic ice shelf.
Poppy was such a cute kid when they first met. Even though socially she was the opposite of Rune, together they just clicked.
"How can a love like ours be broken?"
The story was somewhat cute and sweet, but it also hurt. I really like the "thousand boy kisses" element and how it drove the story. It became the source of both smiles and tears.
A Thousand Boy Kisses is a story of a couple's journey making up for the time they lost. It would appeal to readers looking for emotional reads.
Note:
If you know me well enough you'd know I don't do the pink flowers and heart thing on my teasers. But those two elements are significant to the story so there is it lol!
This review is also available on Goodreads.