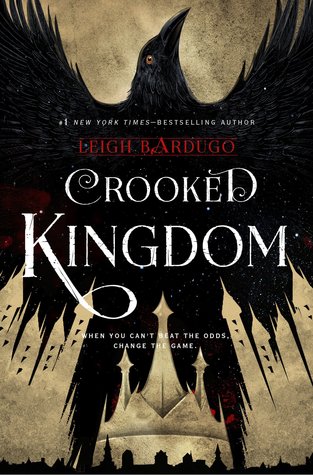 Title: Crooked Kingdom
Author: Leigh Bardugo
Genre: YA Fantasy
Type: Book 2 of 2 from Six of Crows series
POV: Third Person – Multiple
Rating:

After surviving the perilous mission to the Ice Court Kaz Brekker and his gang had no time to rest and savor their victory. They had a team member to rescue, revenge to exact and what rightfully theirs to claim. In a battle against a corrupt city, their wits and bravery became their ultimate weapons against multiple enemies.
I can't decide which one if the two books in the series I like more. Each one had something that made it memorable and each characters had their own charms and individual struggles.
"I would come for you. And if I couldn't walk, I'd crawl to you, and no matter how broken we were, we'd fight our way out together—knives drawn, pistols blazing. Because that's what we do. We never stop fighting."
One of my top favorite is Kaz Brekker. He was one slick MoFo haha! Definitely the darkest of the bunch. He was unscrupulous, but with a good heart even if he didn't show it. His cunningness was admirable.
Another one of my favorite is Matthias Helvar. He was the opposite of Kaz. He had a high moral principle which became part of his struggle. I never thought I would say this but I fell in love with a sweet hero lol!
"They don't know who we are. Not really. They don't know what we've done, what we've managed together." Kaz rapped his cane on the ground. "So let's go show them they picked the wrong damn fight."
Nina, Inej, Jesper and Wylan also caught my attention one way or another. I love how fully developed each if the characters were and how their personal stories seamlessly weaved into the storyline.
Crooked Kingdom is an engaging heart thumping ending to the series. I'm glad Kaz and the gang will always have a special place in my heart for being the first in my YA fantasy venture.
This review is also available on Goodreads.