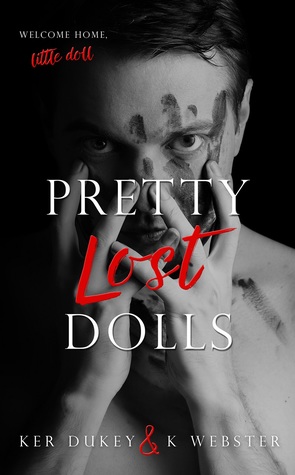 Title: Pretty Lost Dolls
Author: Ker Dukey & K. Webster
Genre: Erotic Thriller
Type: Book 2 of 2 from Pretty Stolen Dolls series
POV: First Person – Multiple
Expected Publication: November 28, 2016
Benny had a dolly who was sick, sick, sick.
Just like him, his dolly needed darkness as a fix, fix, fix.
So they tormented and hunted and played tricks, tricks, tricks.
Together their sins a lethal mix, mix, mix.
Until Benny missed his dolly who was lost, lost, lost.
He needed to find her and love her at any cost, cost, cost.
Not wanting him and his dolly to be alone, lone, lone.
He made plans to bring his dirty dolly, home, home, home.
Have you ever touched another's soul with the essence of your own, breathed them in so they become apart of you?
I have.
Finally starting to live, feel and fall in love, amongst all the chaos surrounding me.
Dropping my guard and letting another into my heart.
I left my soul open.
I left my heart open.
I left the door open.
And he stole me.
Dillon…I'm sorry.
Pre-order at:
ARC provided in exchange for an honest review.
Jade Phillips' nightmare from years before thrust back into her life, threatening to take her down the path she rather forget. As a police detective, she thought she was more prepared this time around. But she never realized she had much more to lose until it was too late.
I have been dying for the conclusion of this story since the moment I read the last word on Prety Stolen Dolls. I am so glad this book lived up to my expectations.
"I'm not crazy, dirty doll." I lift my eyebrows at her. "Granted, I'm not what most would call normal either, but normal is like beauty—all in the eye of the beholder, right?"
Benny, Benny, Benny… What else can I say about him, other than I love this sick fuck with all my nonexistent heart and black soul? Haha! I love how we get to learn about his past and I do understand his psyche and rationale which made me feel most connected to him than any other characters.
Only Benny can make me hate myself this much. I fight my own thoughts—self-hatred bowing to the greedy need for carnal pleasure.
I like Jade too but mostly because of her vulnerability. I like seeing how far she would go and how much she'd be willing to sacrifice.
The story is deviously darker than book 1. I like the direction it took even though some elements were predictable.
Pretty Lost Dolls is a fast pace, thrilling conclusion to the series. The series would appeal to fans of dark thriller.
Note 1:
I've always been #TeamBenny from the beginning, but I need to add one more – #TeamMacy :p
Note 2:
Since I love Benny so much, I wrote an Ode to Benny lol!
warhawke had a boy dolly who was sick, sick, sick
She loved him so much it made knees weak, weak, weak
He's allowed to do things that made him grunt, grunt, grunt
So he will never feel the need to run, run, run
Final Verdict:
This review is also available on Goodreads.