Title: Tommy Boy: A Panty Whisperer Prequel
Author: Sloane Howell
Genre: Erotica
Type: Standalone Novella
POV: First Person – Male
Expected Publication: November 3, 2016
Can your whole life change in one moment?
Away at college, Crystal Castles Clark loves programming computers and playing video games. She doesn't have time to waste with relationships that are going nowhere and jerks that just want to get in her pants.
Tommy Blackwell lives with his buddy, Joel, in a house off campus while he works on finishing up his programming degree. He's not looking for a girlfriend, just trying his best to please his family and pass his classes with the least amount of effort possible.
What happens when two people who seem born for one another cross paths? Should they embrace their attraction or fight it for the sake of appearing normal? Can one event change everything in the end just as surely as it did in the beginning?
*Tommy Boy is a prequel novella to Panty Whisperer: The Complete Series and both can be read independently in any order. For 18+ readers only. This story contains scalding hot sexy times, alpha male tendencies, and sweet moments sure to make you swoon.*
ARC provided by the author in exchange for an honest review.
Tommy Blackwell was a programming student at a university. With his best friend Joel being a manwhore, Tommy preferred to lay low and work towards his studies instead. But his priority changed when he met the girl of his dream.
CC was sexy, sassy and nerdy. Her understanding and free spirit made Tommy quickly fell for her charm. But she wanted to take things slow and he gave her what she needed. Neither of them realized sometimes you just have to seize the moment when it's right in front of your eyes.
I love Tommy and his friendship with Joel in Panty Whisperer and it's really nice to see that again from the beginning, but this time around Tommy got his spotlight to shine on.
"Why do you like me so much?"
"Because you can write code and let me hum Star Wars songs on your pussy."
Tommy was your typical lovable geek. He was patient and loyal to people he cared about.
I stare at her chest that's concealed by a vintage Atari tee shirt.
Even though CC was more cautious in being in a relationship, she was a lot of fun. She certainly matched Tommy when it came to geekdom.
She squeezes her hot, trembling cunt around me and her mouth drops open. Her legs start to quiver like she can't control what's happening with her body.
The story was cute with a lot of fun banters involving Star Wars and computer nerdiness. Both of them were individually adorkable and especially when they're together. Oh, and the sex scenes were hot of course 😛
Final Verdict:
This review is also available on Goodreads.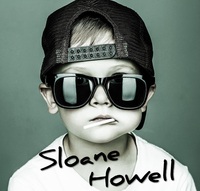 Website   |   Goodreads   |   Facebook  |   Twitter  |  Instagram   |  Amazon
Sloane Howell lives in the Midwest United States and writes hot romance stories. A former college baseball player turned author, when not reading or writing he enjoys hanging out with his family, watching sports, playing with the dogs, traveling, and engaging his readers on social media. You can almost always catch him goofing off on Facebook or Twitter and trying to convince Mrs. Howell that it is "work"