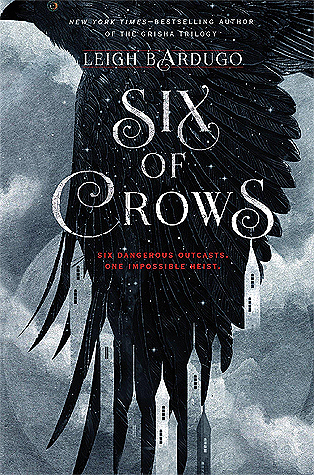 Title: Six of Crows
Author: Leigh Bardugo
Genre: YA Fantasy/Thriller
Type: Book 1 of 2 from Six of Crows series
POV: Third Person – Multiple
Rating:

In the mean street of Ketterdam, both merchants and thieves flourished, raking in fortunes. Kaz Brekker was an infamous young criminal working his was up the gang hierarchy. With his street smart and escape talent, he was lured for a job of a lifetime – a major heist that would set him up for life. In order to achieve it, he needed to round up a dream team that would make them legends – if they survived.
I never thought there'd be a day I would read a YA fantasy, but look at me now hahaha! I not only survived, but actually loved it 😀
"When everyone knows you're a monster, you needn't waste time doing every monstrous thing."
Kaz is my kind of hero. He's a criminal who only cared for himself, but still have the capacity to spare a nook in his heart for others. He was also volatile and vulnerable.
There were five other characters that made up the team. Each one of them had their own motivations to be part of the Herculean task with secrets, flaws and fears that could potentially ruin the mission.
The characters and the locations were richly detailed. The storyline was exciting and action packed. Even though it was predictable and I found some parts to be tedious (but this might just be me because I do have ADD problem with long books lol!) I highly enjoyed it overall.
Six Of Crows is a tale of a band of misfits looking for fame and fortune, while getting their revenge or redemption. The engaging storyline would appeal to fans of richly crafted fictional world.
This review is also available on Goodreads.