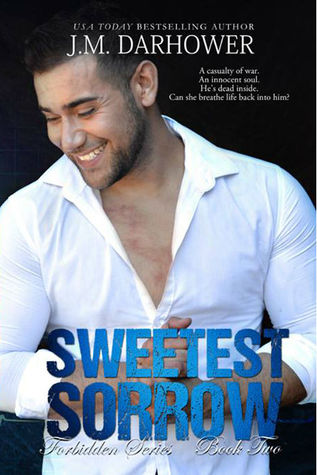 Title: Sweetest Sorrow
Author: J.M. Darhower
Genre: Contemporary Romance
Type: Book 2 of Forbidden series
POV: Third Person
Rating:

ARC provided by the author in exchange for an honest review.
Dante Galante was presumed dead when he went missing, until he was found badly battered and barely breathing. Having survived a torture changed him, which displeased some people. But he was tired of the never ending Family war and needed a friend to help him grieve.
Gabriella Russo was the nurse who mended him to health. What started as friendship slowly turned into something more as she helped him mend his heart as well. But she had secrets that could turn things complicated.
I was intrigued by Dante in book 1 and I'm glad he finally got his story.
"I like to think what defines a man aren't his circumstances or his mistakes. What defines him are his intentions, and mine have always been good."
Dante was hardheaded and hotheaded but those qualities what made him charming in his own special way. I love how he took responsibility of his sister and how protective he was. I also love how he injected himself into Gabriella's life.
Gabriella could stand on her own against Dante's stubbornness. She was tough and assertive, and won't let him trample over her.
"Gavin's a great name," Gavin said. "Means white hawk, which is perfect, you know. I'm white, kind of… Italian is white, right?"
My favorite character in this book is actually Gavin Amaro who had a significant role in the story. He was such an endearing character and I especially love his interactions with Dante.
"The world tried to tear us apart in the worst way, but we didn't let it, and I know I'll never let it, because you are my world now."
The story started a little slow for me in the beginning, but I'm glad it picked up by halfway. I like Genna and Marty and understand their significance in the storyline, but I feel their story overshadowed Dante and Gabriella's. There's also one big important question that needed answer at the end, so I'm hoping that means there's another book coming and I really hope it would be Gavin's.
This review is also available on Goodreads.