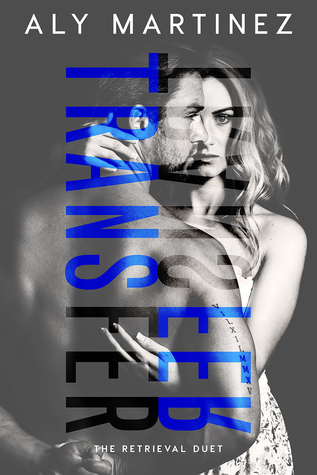 Title: Transfer
Author: Aly Martinez
Genre: Romantic Suspense
Type: Book 2 of 2 from The Retrieval Duet
POV: First Person – Multiple
Expected Publication: September 27, 2016
One story. Two couples.
I fell in love with a man who didn't exist.
What started out as romance ended in hell.
His words turned to razor blades.
His kisses converted to fists.
His embrace became my cage.
His body transformed into a weapon, stealing parts of me until ultimately….
I broke.
I hated him.
My sole job in life became to protect our daughter.
I wasn't sure I'd ever escape the prison he'd skillfully crafted from my fears.
Until the day our savior arrived.
This is the story of how I escaped the man who thought he owned me.
The transfer of my life and my family.
Pre-order at:
Amazon US |  Amazon UK |  Kobo  |  iBooks
ARC provided by the author in exchange for an honest review.
Clare Noir's life was put in spin cycle due to a revelation that could changed everything. It was time for her to start fighting back, especially that she had good people alongside her. But after uprooting her former life, things didn't go as easy as planned when a monster from the past refused to let her go.
Transfer started right where book 1 left off with all characters having to go through major changes in their lives. They had to learn to adapt and accept that things were no longer how it used to be.
I would not allow Walt to take that away from me. Or take me away from them.
Clare had evolved since book 1. If she was a scared, fragile woman then, she grown her teeth now.
She was also getting support from someone who cared about her, which was a nice change from the life she had before. He helped her to heal and strengthen both her emotional and physical state.
Letting her go was no longer an option. But, after today, it was clear keeping her wasn't going to be easy, either.
Transfer is the perfect complement as the conclusion to this series. It is a fast pace, engaging read with a good balance of sweetness, warmth, sadness, suspense and sexiness.
Final Verdict:
This review is also available on Goodreads.
Website   |   Goodreads   |   Facebook  |   Twitter
Born and raised in Savannah, Georgia, Aly Martinez is a stay-at-home mom to four crazy kids under the age of five, including a set of twins. Currently living in South Carolina, she passes what little free time she has reading anything and everything she can get her hands on, preferably with a glass of wine at her side.
After some encouragement from her friends, Aly decided to add "Author" to her ever-growing list of job titles. Five books later, she shows no signs of slowing. So grab a glass of Chardonnay, or a bottle if you're hanging out with Aly, and join her aboard the crazy train she calls life.