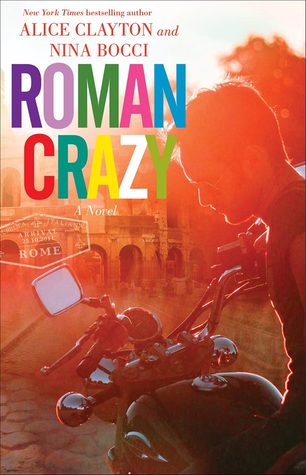 Title: Roman Crazy
Author: Nina Bocci & Alice Clayton
Genre: Contemporary Romance
Type: Standalone Book 1 of The Broads Abroad series
POV: First Person – Female
Expected Publication: September 13, 2016
Avery Bardot steps off the plane in Rome, looking for a fresh start. She's left behind a soon-to-be ex-husband in Boston and plans to spend the summer with her best friend Daisy, licking her wounds—and perhaps a gelato or two. But when her American-expat friend throws her a welcome party on her first night, Avery's thrown for a loop when she sees a man she never thought she'd see again: Italian architect Marcello Bianchi.
Marcello was the man—the one who got away. And now her past is colliding with her present, a present where she should be mourning the loss of her marriage and—hey, that fettuccine is delicious! And so is Marcello…
Slipping easily into the good life of summertime in Rome, Avery spends her days exploring a city that makes art historians swoon, and her nights swooning over her unexpected what was old is new again romance. It's heady, it's fevered, it's wanton, and it's crazy. But could this really be her new life? Or is it just a temporary reprieve before returning to the land of twin-set cardigans and crustless sandwiches?
A celebration of great friendship, passionate romance, and wonderful food, Roman Crazy is a lighthearted story of second chances and living life to the fullest.
Pre-order at:
Amazon |  B&N  |  iBooks  |  Audible
ARC provided in exchange for an honest review.
Avery Bardot was an epitome of society lady. Forgoing her own ambitions, she stood by her husband's side, playing the perfect housewife until he betrayed her trust. She ran away to be with her best friend in Rome to forget everything behind. She would have never guessed she ended up face to face with her past.
Marcello Bianchi was a feast-for-the-eyes gorgeous architect. With a scorching history that refused to die out, they were determined to see how far their second time would lead them.
I love anything Italian (especially the men I must add :p ) so this book is a perfect opportunity for me to enjoy all things Italia.
Marcello looked every bit like my greatest love and my biggest regret.
Marcello (oh his name alone made me melt like a gelato in summer!) was a typical Italian man – beautiful, charming and a good cook. And most importantly knew his way between the sheets or against the wall, or over the counter, or… yeah you get it.
The more I thought about what was in Boston, or what wasn't in Boston, the less thrilled I was to return.
Avery had been living a stifled life for years since her marriage. Now (almost) free, she started to rediscover her true self and learned to put herself first.
Marcello and Avery had good chemistry together. However I do wish the sexy times were more elaborate lol! The plot is simple with minimal drama for a lighthearted feel.
Hundreds of people milled about, sporting their favorite colors. All rooting for their districts— like The Hunger Games except without the murder. Six teams, or districts, would compete in the trials and the winner got bragging rights.
What I enjoyed the most was the sights and sounds of the locations. I love traveling, art history and food so this book is a huge pile of orgasmic indulgence. It made me want to just pack my bag and go find my own sexy Italian (man, food, all the works).
For the first time in a very long time, I felt treasured.
Roman Crazy is a light, fun story of a woman rediscovering herself and giving love a second chance. It's a feel good story to enjoy on vacation even just on your mind.
Final Verdict:
This review is also available on Goodreads.