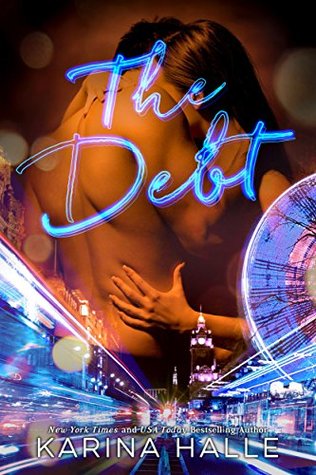 Title: The Debt
Author: Karina Halle
Genre: Contemporary Romance
Type: Standalone
POV: First Person – Dual
Publication Date: August 29, 2016
Her life changed in an instant.
And he's the only one who could have prevented it.
From the New York Times bestselling author of The Pact and The Lie comes a new standalone contemporary romance about those McGregor men.
Jessica Charles shouldn't have even been in London when the unthinkable happened.
She should have been back at home in Edinburgh, perhaps hanging with her boyfriend, having drinks with her sister or doing yoga with her group of friends. She should have been going on in her normal, dependable life as always.
But on that fateful day in August, when a mentally-ill ex-soldier opened fire in public, Jessica's world changed forever.
Now single and crippled from the gunshot wounds, Jessica finds herself scared and alone, losing faith in herself and humanity with each agonizing moment that passes.
That is until a stranger enters her life. A stranger who makes her live again.
Keir McGregor has always been the strong, silent type. Throw in tall, dark, and handsome and you've got pretty much the perfect Scotsman.
Except Keir is anything but perfect. He's got a past he's running away from and a guilty conscience he can't seem to shed. But the more time he spends with Jessica, the more he falls in love with her.
And the more his secret threatens to tear them apart.
He may have been a stranger to her.
But she's never been a stranger to him.
ARC provided by the author in exchange for an honest review.
Jessica Charles was a yoga instructor who aspired to open her own studio. But a cruel fate rendered her both physically and emotionally crippled. She refused to open up her heart and face the wound until a stranger led her to the right direction.
Kier McGregor was an ex military man. As a Lance Corporal, he was responsible for his team's well being. When something bad happened, he couldn't shake off the blame and vowed to make amends and pay the debt. He saw a kindred spirit in Jessica and wanted to show her what life could still offer. But he had his own personal demon to chase away and a secret that could ruin their future.
I've only read the first McGregor men book, and when I saw the blurb and how this one is potentially heartbreaking, I couldn't resist it. It wasn't as sad as I prefer but it was definitely beautifully written.
There is only harm in the truth. It would unburden my guilt but it would make her feel compromised.
Kier was burdened with guilt since he left the military. He desperately needed to clear his conscience and Jessica was the answer. I love how protective he was even when he himself needed to be soothed.
You shouldn't have to change your whole world in order to make someone realize they want you.
Jessica lost everything with nothing to look forward too. I love how she let Kier in even when she shut off the rest of the world. I could feel both her physical and emotional pain.
My favorite type of character is the highly vulnerable, broken kind, and in this book, it applies to both of them. In their brokenness, they helped mend each other.
I feel a bit like Catherine as she roamed the moors, looking for Heathcliff. It's so isolated here, just the unending peat and heather, the peaks in the distance.
One of my favorite aspects of the book is the sweeping locations. The descriptions paired with author's location photos on her Instagram really helped transported me into the story especially with the fact that I absolutely love ruins.
"I love every broken part of you and how well it fits with every broken part of me."
The Debt is a story of two individuals bound by a tragedy and how they chase away each other's demons. With beautiful ruins to match the broken souls, it is bound to sweep you off your feet.
Final Verdict:
This review is also available on Goodreads.
✿ ARC won through #ShhSummerBuzzBooks ✿