I was tagged on Facebook for list of 10 most memorable books and I thought I want to give brief explanation of why it made the list, so that's how this post came about. Except book number 1, the rest of the list is of no particular order.
Also, some of the books are reviewed before I started blogging meaning it wasn't necessarily written properly – as in my personal thought not meant for public even though posted publicly lol!
Click cover to go to book's Goodreads page.
Forbidden by Tabitha Suzuma

Pre-blog review HERE
This one is my favorite book ever. It's so wrong, yet feels so right. I just can't help but to root for them. Lochie and Maya shattered my heart to pieces, it will never be whole again.
Undeniable by Madeline Sheehan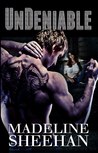 Pre-blog review HERE
This was my first MC book and what an introduction it was! As you can see from my review, I wasn't used to such situation (nothing shock me anymore now haha!). It was raw and gritty just the way I love.
The Empty Jar by M. Leighton
Blog review HERE
This one was hard to read and I don't say that easily because sometimes I feel like I'm dead inside since it takes a lot of make me feel something really strongly lol! But yes, this one is so beautifully heartwrenching.
Letters Written in White by Kathryn Perez
Blog review HERE
This one is also another one that's hard to read. It is raw and relatable to everyone from either side of the story.
One Day Soon by A. Meredith Walters
Blog review HERE
I have a major soft spot for characters who has been dealt a shitty hand in life. This story touched me on a different level because of my "personal involvement". Whenever I came across people of such situation in real life, it always made me think of their stories of how/why they got there and what the future holds. It made me feel human.
The Light Between Oceans by ML Stedman
Pre-blog review HERE
I could get lost in the time period and location alone. It's a sweeping saga of family joy and heartbreak. Simply stunning.
The Kite Runner by Khaled Hosseini
I simply love the cultural elements in the author's books. His books would make anyone who live in a peaceful countries appreciate what privilege they have. I pretty much ugly cried the whole book haha!
Backstage Pass by Olivia Cunning
Pre-blog review HERE
The hottest book I've read. Enough said :p
Child 44 by Tom Rob Smith
The book that brought me back to the world of reading after retiring when my childhood fairytale phase ended lol! I wouldn't be here if it wasn't for this one.
Fifty Shades of Grey by EL James
I actually rated this book very low but the power it holds is irrefutable. It was my first romance, first erotica, first BBF and my first kinkiness. I've read a lot of other romance/erotica since then but Fifty will always be special to me.