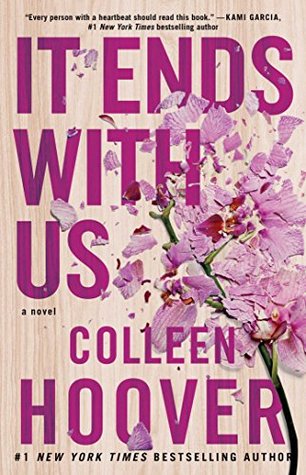 Title: It Ends With Us
Author: Colleen Hoover
Genre: Contemporary Romance
Type: Standalone
POV: First Person – Female
Rating:

Ryle Kincaid was a highly successful and ambitious neurosurgeon. He dedicated his time to his career and never interested in a committed relationship. That was until someone came into his life and shattered his walls.
Lily Bloom was not afraid to take risks to make her lifelong dream come true. When she met Ryle, life couldn't be more perfect. But when Atlas Corrigan came back from the past, it reminded her of something she should never forget – sometimes, there's some things not worth the risk.
This book comes with a lot of hype way before the release. I keep seeing words like "heartbreaking" and "life changing" but I never knew what the story is about until I read it (which is the best way to read this book). And yes, now I understand why the reactions.
"I feel like everyone fakes who they really are, when deep down we're all equal amounts of screwed up. Some of us are just better at hiding it than others."
I admired Ryle's drive and ambition. But at the same time, I also love seeing him bending when it came to Lily and how he changed everything he believed before her.
I think about how sometimes, no matter how convinced you are that your life will turn out a certain way, all that certainty can be washed away with a simple change in tide.
Lily was also an admirable character. It required a lot of strength to be in her situation.
But my favorite character since the beginning is Atlas. The moment he was introduced in the book, I knew I would love him.
"There is no such thing as bad people. We're all just people who sometimes do bad things."
As for the story I do not want to say anything, but I'd like to address the subject – the situation and the dilemma the characters were in. Like a lot of things in life, it is never just black and white. It is very easy to judge when you are not the one wearing the shoes.
All humans make mistakes. What determines a person's character aren't the mistakes we make. It's how we take those mistakes and turn them into lessons rather than excuses.
I do not have personal experience with such issue, but I've seen it happened to people I know. And yes, on first impression I myself made judgement. But then I also realized I knew nothing about what happened behind the curtains. It most likely won't justify it, but we all should at least acknowledge it that there are reasons for why certain things happened.
It Ends With Us is a story of people in difficult situation and how they found strength to survive it. It is raw, real, and something many people would be able to relate to.
Note:
This book was not that sad for me until the "breaking the pattern" scene. That one shattered my cold dark heart 😦 lol!
This review is also available on Goodreads.