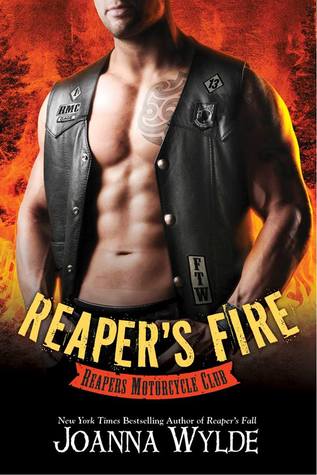 Title: Reaper's Fire
Author: Joanna Wylde
Genre: Contemporary Romance
Type: Book 6 of Reapers MC series
POV: First Person – Dual
Expected Publication: August 9, 2016
The club comes first.
I've lived by those words my whole life—assumed I'd die by them, too, and I never had a problem with that. My Reaper brothers took my back and I took theirs and it was enough. Then I met her. Tinker Garrett. She's beautiful, she's loyal, and she works so damned hard it scares me sometimes . . . She deserves a good man—one better than me. I can't take her yet because the club still needs me. There's another woman, another job, another fight just ahead.
Now she'll learn I've been lying to her all along. None of it's real. Not my name, not my job, not even the clothes I wear. She thinks I'm nice. She pretends we're just friends, that I've still got a soul . . . Mine's been dead for years. Now I'm on fire for this woman, and a man can only burn for so long before he destroys everything around him.
I'm coming for you, Tinker.
Soon.
Pre-order at:
Amazon US |  Amazon UK |  B&N  |  iBooks  |  Kobo
ARC provided for an honest review.
Gage was a long time loyal Reapers. As the manager of their strip club, he wanted to do something different so he volunteered to spy on their support MC for possible corruption. His new job took him to the small town of Hallies Falls as Cooper Romero, a trucker looking for a new start.
Tinker Garret moved from Seattle to get away from her useless husband. She came back to her hometown to be with her ailing dad and took care of her apartment building while continuing her gourmet chocolate business. Gage needed a place and a cover job, while Tinker needed a handyman and had an empty apartment. A deal was made. But as attraction grew, she started to realize it was much more than what she signed up for.
I don't read a lot of MC series but the Reapers is one of my favorite and it's always good to go back to it and learn more about the characters.
Reapers forever, forever Reapers.
Sometimes loyalty sucks.
Gage was among my favorite especially after the last book. I love seeing how he was conflicted with choosing club loyalty or personal desire. He sacrificed for them a lot and I've always love the dynamics between the brothers.
I didn't like Tinker in previous book because she seemed slutty lol! But my opinion definitely changed as I knew her better. She was a good responsible person and I love her relationship with her best friend.
There was a lot if things going on in the story. The first 50% or so, Gage was on his own. It made me missed the rest of the crew. The romance was also lacking in the first half. But as the story progressed further this changed and it was good to have the previous characters back.
Reaper's Fire is a story of two individual meeting at unlikely timing, learning to trust each other and overcoming both people and nature's fury.
Final Verdict:
This review is also available on Goodreads.