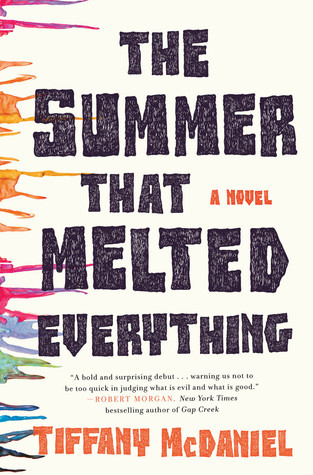 Title: The Summer That Melted Everything
Author: Tiffany McDaniel
Genre: Literary Fiction
Type: Standalone
POV: First Person – Male
Expected Publication: July 26, 2016
Fielding Bliss has never forgotten the summer of 1984: the year a heat wave scorched Breathed, Ohio. The year he became friends with the devil.
Sal seems to appear out of nowhere – a bruised and tattered thirteen-year-old boy claiming to be the devil himself answering an invitation. Fielding Bliss, the son of a local prosecutor, brings him home where he's welcomed into the Bliss family, assuming he's a runaway from a nearby farm town.
When word spreads that the devil has come to Breathed, not everyone is happy to welcome this self-proclaimed fallen angel. Murmurs follow him and tensions rise, along with the temperatures as an unbearable heat wave rolls into town right along with him. As strange accidents start to occur, riled by the feverish heat, some in the town start to believe that Sal is exactly who he claims to be. While the Bliss family wrestles with their own personal demons, a fanatic drives the town to the brink of a catastrophe that will change this sleepy Ohio backwater forever.

Pre-order at:
ARC provided by the author in exchange for an honest review.
The summer of 1984 was a significant period for the small town of Breathed, Ohio and the Bliss family. During the blistering summer, Fielding Bliss found a black boy claiming to be the devil who came by invitation made by his father. He forged a friendship with Sal and they taught each others valuable life lessons. But Sal's presence brought fear to the town drowned in ignorance and prejudice that could consume their souls.
I was first attracted to this book by the blurb. It is attention grabbing while still being vague. It turned out to be a different story than what I expected in a good way.
No one ever said you've got to prepare to be hated. You've got to prepare for the yelling and the anger. You have got to prepare how to survive being the guilty one, even in innocence. And yet, there I was, sharing the horns with Sal.
The story was told from Fielding's point of view, of his experience in the summer that changed his life when he was thirteen. Throughout the book, we went back and forth from that summer and the years in between the present to significant events in his life correlated to the said summer.
Sal was also thirteen, but he carried wisdom beyond his years. His presence was a mystery that brought both joy and misery to the people around him. Throughout the book, it made me questioned what his motive was because sometimes he skirted the grey area.
Sometimes I think older brothers should not be allowed. We fall in love with them too much. They are our everything, all the while, they hurt out of sight for our sake.
My favorite relationship in this book was of Fielding and his older brother. Fielding worshiped the ground his brother walked on. It was both heartwarming and heartbreaking to see how their relationship evolved.
"You wouldn't be able to leave a cobra in your sock drawer. But a snake that is no threat will greatly define the man who decides to kill it anyways."
It took me a while to get what this book is about, yet it didn't prevent me from wanting to find out more. There were elements of religion, race and sexuality that made sense by the end and demonstrated that the devil didn't necessarily came with horns.
"I know the sins of everyone who comes to hell. That's part of my misery . To know and feel theirs."
The Summer That Melted Everything is a well written, deep and philosophical debut novel about differences, acceptance and forgiveness, and acknowledging that life is never just black and white.
Final Verdict:
This review is also available on Goodreads.
An Ohio native, Tiffany McDaniel's writing is inspired by the rolling hills and buckeye woods of the land she knows.  She is also a poet, playwright, screenwriter, and artist.  The Summer that Melted Everything is her debut novel.