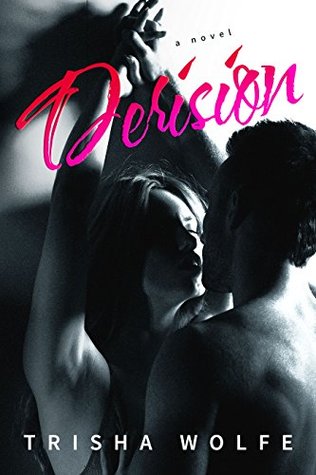 Title: Derision
Author: Trisha Wolfe
Genre: Dark Erotic Romance/Suspense
Type: Standalone
POV: First Person – Dual
Rating:

Chase Larkin was a hotshot lawyer and the founding partner of Lark & Gannet law firm. While they worked hard during the day, they also played hard after hours. The firm was a secondary business to The Firm which catered to powerful people with certain proclivities. But being the top dog put Chase under firing range of power hungry individuals.
Alexis Wilde was the timid intern at the company. After a year of working under the shadows, she finally got the guts to apply for higher position. Unbeknownst to her, she wasn't as invisible as she thought and her new position might be more than she bargained for.
The blurb first attracted me with the promise of kinky darkness. Then the possibility of "uncomfortable situation" sold it even more. However, it didn't actually turned out the way I expected.
"I'll give you everything you ask of me, but I will always demand your submission. There will always be a balance of pleasure and pain—it's just who I am."
Chase was a degrader, so be aware that some of his actions might not go well to some people. He might seemed powerful on the outside, but he had major vulnerability on the inside. I like this contradiction, but I wish it merged better.
I am not exactly a fan of Alexis. I can accept meek personality but for someone who didn't know anything about submission, she was too accepting and too willing. There wasn't much inner struggle other than some fleeting thoughts of it.
I love the idea of a law firm with a dark side and how there's two sides of the business that not everyone was privy about. I like how the element of suspense added another layer to the story.
I accused him of being sick…of getting some twisted fix…but it's me who desires to be forced into submission—me who called out to him. Pleading to be dominated.
However, I do have a major problem with the book – the connectivity – things just didn't clicked together. For one, the connection between Chase and Alexis. Things happened way too fast with her being his submissive without any discussion considering she's absolutely clueless. Then it's The Firm. With all the mentions of its debauchery, there was only one brief (sex) scene at the location that barely established its supposed reputation.
Her moan verges on a scream, sending a thrill racing through me, my muscles taut as I hammer her pussy, my mercy long gone.
Speaking of sex scenes, there were plenty to keep readers satisfied. Personally, even with all the fuckery, I wish they were more kinky. There were rough sex and toys, but a little bit more wouldn't hurt. Much. lol!
I tried hard to feel more for the book but it just didn't work as well as I wanted it to be for me. But it doesn't mean it won't work for everyone else. So if you're looking for a dark kinky book, this one surely qualifies.
This review is also available on Goodreads.