Title: Cleat Catcher
Author: Celia Aaron and Sloane Howell
Genre: Contemporary Romance
Type: Standalone Book 2 of 2 from Cleat Chase Duet
POV: First Person – Dual
Expected Publication: June 30, 2016
What happens when an unrepentant Cleat Chaser meets the player of her dreams?
Nikki Graves has a history of going through the baseball roster with an eye for talent–the kind of talent that keeps things spicy between the sheets. But, once she meets Braden Bradford, catcher for the Ravens, her talent scout days are done. He's the one.
Braden has never met a woman like Nikki, and he can't get enough of her smart mouth and big heart. But life isn't always as direct and certain as the connection between Braden and Nikki. When family objections and career trajectories begin to crowd the plate, will Braden be able to keep his catch of a lifetime?
ARC provided in exchange for an honest review.
Braden Bradford was the catcher and team captain for the Ravens. Being a team player, he was always thinking of the team's benefit to the point of neglecting his own welfare. He had to endure the stress of both his career and his evolving relationship.
Nikki Graves was a flirtatious cleat chaser. With her good looks, she had unlimited options of admirer and loved every second of it until she finally met The One. But life sometimes hit one with a curve ball and forced them to re-evaluate what's the most important thing in life.
After the fun craziness of previous book, I'm glad to be reacquainted with the gang. I still don't know anything about baseball, but still enjoyed this one anyway lol!
"Come on my cock, slut. Come, and tell me who you want to blow inside your tight cunt."
Despite being a fun character, Braden was a very responsible person. I love seeing the support and respect from his teammates. And he likes spanking and that always a plus in my book :p
Braden—even though he was clumsy and ham-handed when it came to emotions—was my man. I'd known it since we first met.
Nikki was the crazy one. Her unfiltered mouth was quite entertaining. I like seeing her interactions with people at work and at home.
Squeak … Squeak… The sound stopped, and I heard Grady take in a huge sniffing breath through his nose followed by a relieved-sounding "aahhh" on the exhale.
Like the first book, the secondary characters were very entertaining. Kasey was as foul mouthed and as horny as ever. Cyrano was amusing and Grady really grew on me haha!
Cleat Catcher is a delightful story of a couple navigating their relationship amidst career and personal issues. It's a good choice if you like a sports themed, quick fun read.
Final Verdict:
This review is also available on Goodreads.
Website   |   Goodreads   |   Facebook  |   Twitter  |  Instagram   |  Amazon
Celia Aaron is the self-publishing pseudonym of a published romance and erotica author. She loves to write stories with hot heroes and heroines that are twisty and often dark. Thanks for reading.
Sign up for my newsletter at aaronerotica.com to get information on new releases. (I would never spam you or sell your info, just send you book news and goodies sometimes). 😉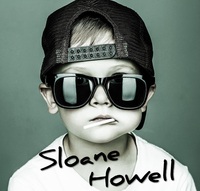 Website   |   Goodreads   |   Facebook  |   Twitter  |  Instagram   |  Amazon
Sloane Howell lives in the Midwest United States and writes dirty stories. When not reading or writing he enjoys hanging out with his family, watching sports, playing with the dogs, traveling, and engaging his readers on social media. You can almost always catch him on Twitter posting something goofy.
Visit his web page http://www.sloanehowell.com to sign up for his mailing list to get updates on new releases, promos, and giveaways. Thanks for reading.