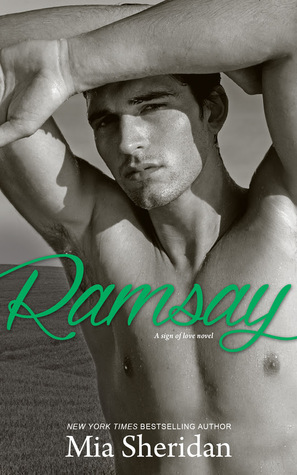 Title: Ramsay
Author: Mia Sheridan
Genre: Contemporary Romance
Type: Standalone from Sign Of Love series
POV: First Person – Dual
Expected Publicatio: June 19, 2016
Lydia De Havilland is shocked when Brogan Ramsay suddenly reappears in her life. Several years before, Brogan was the son of her family's gardener, and the boy she hurt and betrayed. But Brogan is no longer the quiet, sensitive boy she remembers. Now he's a man—gorgeous, powerful . . . and seeking vengeance.
Brogan Ramsay can't let go of the memory of Lydia tricking him cruelly, leaving his heart shattered and his family penniless. And now he's back to destroy her family the way his was destroyed. There's only one problem . . . the girl who wounded him so badly years ago is now a woman who still has the power to render him breathless.
Ramsay is the story of betrayal and wrath, of the strength of regret and the power of forgiveness. It is the story of the thin veil between love and hate, and how more often than not, when we seek to inflict pain on others, the heart we wound is our own.
THIS IS A STAND-ALONE SIGN OF LOVE NOVEL, INSPIRED BY ARIES. New Adult Contemporary Romance: Due to strong language and sexual content, this book is not intended for readers under the age of 18.
ARC provided by the author in exchange for an honest review.
Brogan Ramsay's family lived in a small cottage on a luxurious estate compound. As the gardener's son, he took a lot of his drunk father's responsibilities to make sure his family has food on the table. He had his eyes on the owner's daughter until he was betrayed by her games.
Lydia De Havilland grew up privileged, having everything she ever wanted. Except for the attention of the boy she's crushing on. One immature act caused a ripple effect that spanned several years harboring hatred and vengeance between two families. But when it came to who's wrong and right, things were never black and white especially when it involved matters of the heart.
Story of vengeance is one of my favorite subjects because it's always interesting to see how far a character would go and how badly the victim would break. And it could also be interpreted differently
I would ruin her, humiliate her, and then there'd be nothing left except peace.
I think Brogan's name alone made him very sexy. I love how he pulled his weight for his family. Even though I find his rougher side sexy, I'm also glad he had a flip side to balance it.
Maybe I needed him. And maybe that was another reason I was so damned scared. Because I had a feeling needing Brogan Ramsay again was going to ultimately break my heart.
Lydia was your typical pampered princess. But when life turned around, she knew how to adapt and survive. Some of her actions were questionable but I do understand it considering the situation.
I was buried inside Lydia and even now, I wanted more of her. I always had.
Brogan and Lydia had a good connection. I like how the animosity between them created both physical and emotional attention.
One of my favorite characters is Ramsay's best friend, Fionn. His antics were amusing. I also love the usage of Gaelic especially the cursing lol!
Ramsay is a story of people in unfortunate circumstances and what they had to do to survive and centered on the theme of forgiveness.
Final Verdict:
This review is also available on Goodreads.
Copy won from #ShhSummerBuzzBooks giveaway
Goodreads   |   Facebook  |   Twitter   |  Amazon
Mia Sheridan is a New York Times, USA Today, and Wall Street Journal Bestselling author. Her passion is weaving true love stories about people destined to be together. Mia lives in Cincinnati, Ohio with her husband. They have four children here on earth and one in heaven.