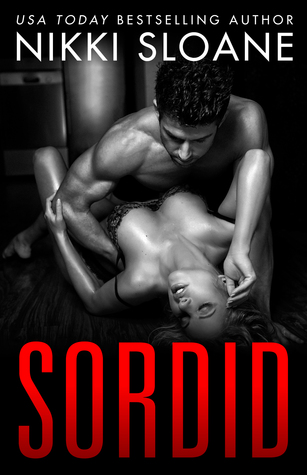 Title: Sordid
Author: Nikki Sloane
Genre: Dark Romance
Type: Standalone
POV: First Person – Female
Rating:

Addison Drake was ambitious and driven. As a pre-med student, she had made a plan of action to where the direction of her life is going. But the one time she decided to go to a frat party, veered her life off course.
Luka Markovic was the man she crushed on two years ago. But he turned out to be a completely different person now. There was a darkness she never saw before and she had to endure it whether she wanted it or not.
When a book is controversial, readers acted like a moth to a flame. That's me included. Personally, I don't see much of a banning reason in this book. So no, nothing that will make anyone shudder or question their sanity (at least not for me lol!), but overall it was an sexy and somewhat dark read.
"Your body. Your time. Even your choices. Those are all mine now, Addison."
Luka started as an ass and I actually liked that. The abrasiveness and the alphaness were appealing. But along the way, he became too much of an ADD with his personality. It's like he can't decide who he wanted to be.
I thought I wanted safe and comfortable, but what if I needed this aggressive, dominating version more?
Addison was a conundrum. For someone who supposedly smart, I didn't actually feel much of that. I understand her situation, but she was too accepting. There wasn't much push-pull between herself or them.
Luka was bad, and the worst part of me hoped he was going to make me be bad along with him. Naughty, slutty, and wrong.
My biggest problem with this book was the too loose plot. I wasn't convinced by the story or the characters. It made me less invested in them. Their issues were not elaborated and the solutions were too convenient.
If you like your book full of dirty sex, this one won't disappoint. There were plenty to go around to satisfy your needs. Call me crazy but my favorite one was the "just the tip" scene lol!
Sordid is a story of a woman exploring her darkest desires and the man who made it a reality. Even though the story itself wasn't much, it packed plenty of heat to go around.
This review is also available on Goodreads.