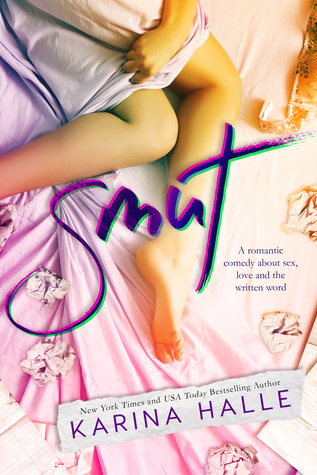 Title: Smut
Author: Karina Halle
Genre: Romantic Comedy
Type: Standalone
POV: First Person – Dual
Rating:

Amanda Newland had a lot to prove to people around her. As an aspiring author, she wanted to be the best in her class, paving the way for her writing future. But that future could be in jeopardy when she was assigned with an enemy as her writing partner.
Blake Crawford was a cocky, charming Brit. He didn't seem to take anything seriously; more interested in chasing skirts than grades. He had a secret ambition and could use her as a part of it. But their secret endeavor might not remain so for long and the truth could possibly halt their future.
I appreciate it when authors evolved and tried different genre because it shows versatility and keep things fresh. I love Karina Halle's romantic suspense book, so I'm glad she managed to successfully venture into romantic comedy.
"It's hard for girls to focus on anything else except my good looks and big dick."
Blake was a fun, lovable character. He may be playful but he also had a big heart. I especially love when he riled up Amanda.
Amanda was very endearing. She was serious in meeting her goals but I'm glad how she was willing to open up and take chances.
Writing with her was fun. Fighting with her was even more so. Maybe even hot. And hot is exactly what we need to bring to the table in order to rake in the dough.
I like how their relationship progressed at a good pace and the sex scenes were scorching. The supporting characters were also entertaining. My favorite was Ana, her roommate. Oh also Fluffy of course. And I absolutely love Blake's reaction to Fluffy. Those were priceless moments haha!
Basically, the way I figure so far, if I made up a pen name, found a stock image of a shirtless roid monkey, and wrote a 20-30K novella about some kind of romantic or sexual endeavour, and put it up on Amazon for 99 cents, I could stand to rake in some dough.
Erotica is one of my favorite genres and I always love reading about characters who are authors. So to have two characters with a combination of those is a winner for me. The story was entertaining, poking fun at the genre, but at the same time giving merit to its presence in the writing industry. Some of my favorite scenes were when they brainstormed ideas for pen name and book title and plot. That was hilarious and well, realistic lol!
Smut is an adorkable, light and fun story about two people's journey into publishing erotica. It's a good choice if you're looking for a quick laugh.
This review is also available on Goodreads.