Title: Panty Whisperer: The Complete Series
Author: Sloane Howell
Genre: Erotica
Type: Short Stories & Novellas
POV: First Person – Dual
I love women. I'm not ashamed to admit that making a beautiful woman come is my main goal in life—one that I accomplish night after night. Women are as drawn to me as I am to them. I don't get turned down. It's not a brag, just a fact. At least it was a fact. Until I met Quinn—the one woman who didn't fall for my easy charm. Now, I have to have her. She may not want to get close, may not want to admit that I turn her on and can give her a night that she'll never forget, but she was mine the first moment I saw her. Eventually, I'll have her beneath me, my hands in her hair, and my name on her lips. It's what I do. I'm the Panty Whisperer.
ARC provided by the author in exchange for an honest review.
Joel Hannover was a God's gift to womankind – well at least in his mind hah! Dubbed as the Panty Whisperer due to his ability to get into one so easily, he lived up to his reputation by making used of his moniker, armed with his good looks and manners. His M.O. was fuck 'em and ditch 'em. Never would he had thought that the table could turn and bite (or kick) him in his uh… wherever it hurts :p
So I finally get to meet this infamous Joel I've been hearing about. And I'm glad to say his reputation precedes him 😀
It's not ten inches, but it gets the job done. A massive cock is overrated anyway. I'm not trying to scar her for life.
Joel was an easy to love character. He was charming in his own assholey way. He knew how to work his way into panties and what to do when he got there.
Quinn got some lady balls for sure haha! I love how she could put Joel in his place. But with that, she also had vulnerabilities that made her likeable.
"What do you think my dick will look like on their screen? I'm worried the resolution isn't good enough to capture its true essence."
As much as I like Joel, I think I like his best friend Tommy even more. Tommy stole the scenes with his amusingly irreverent antics. His relationship with Joel was very precious especially when paired with geeky fandom.
I let my spit drip down in between her ass cheeks, while still pummeling her from behind. I work my natural lube into her clenched asshole with my thumb while she reaches back and spreads her ass for me.
The story was very amusing with Joel trying to get back on his feet after being shot down and Tommy was a great wingman that helped him through it. There were varieties of sex scenes and they were pretty hot.
The series was originally written as short stories, then expended and revamped. It comes in seven volumes. See volume guide below:
Volume 1-3: Complete standalone short stories. Read in any order.
Volume 4-5: Interconnected standalone short stories. Read in order.
Volume 6-7: Continuous novellas. Read in order after Vol. 4-5.
Panty Whisperer is a fun sexy read that would make you laugh and squirm (and even maybe shed tears for the sensitive souls out there lol!), perfect for a sexy pick me up.
Note:
I would totally read Joel and Tommy bromance book hahaha!
Final Verdict:
This review is also available on Goodreads.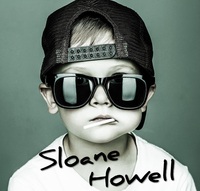 Twitter  |  Facebook  |  Web  |  Goodreads  |  Amazon page  |  Instagram
Sloane Howell lives in the Midwest United States and writes dirty stories. When not reading or writing he enjoys hanging out with his family, watching sports, playing with the dogs, traveling, and engaging his readers on social media. You can almost always catch him on Twitter posting something goofy.
Visit his web page http://www.sloanehowell.com to sign up for his mailing list to get updates on new releases, promos, and giveaways. Thanks for reading.