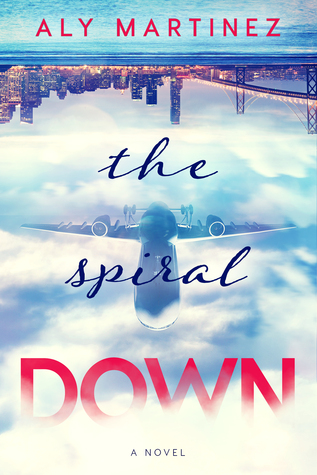 Title: The Spiral Down
Author: Aly Martinez
Genre: M/M Contemporary Romance
Type: Standalone Book 2 of The Fall Up series
POV: First Person Male – Dual
Expected Publication: May 17, 2016
I was afraid to fly.
He made me soar.
After years of climbing the ladder of success in the music industry, I finally had everything I could want.
Yet I still found myself wandering through life alone.
Captain Evan Roth was the one man I never saw coming.
Tall, dark, mysterious… Straight.
We were both damaged beyond repair and searching for something so elusive we weren't sure it even existed.
But, when two broken souls collide in midair, falling is a given.
I just never expected to crave the spiral down.
ARC provided by the author in exchange for an honest review.
Henry Alexander was a highly successful musician. With all the money in the world , he could have anything he wanted, but the one thing he wanted the most can't even be bought.
Evan Roth flew high above the clouds. As a pilot, neither the sky nor the land could scare him until he met someone that broke down his defenses. And it wasn't easy to soar when both of them had broken wings.
This is only my second M/M book so I didn't have much to compare.  But as the author's debut of the genre, I was definitely pleasantly surprised how much I enjoyed this one.
Dear God. I didn't have to fuck him to get the high. Evan Roth had just become my favorite drug of all and I hadn't even tasted him yet.
Henry was the kind of character that commanded your attention even when he wasn't the star. I've loved him since book 1 and I'm glad he got his spotlight. I adored him even when he was an inconsiderate diva which in itself was a form of entertainment.
Evan was more of the serious type but that didn't mean he was less interesting. I love seeing him struggled with his wants and glad he didn't let himself be trampled on.
Millions of people were captivated by just the image of it on television and magazines, but up close, with only mere inches separating us, it was damn near spellbinding.
The story had an easy pace with light and fun feel. Though I have to say when it came to Henry's issue, I did want to bitchslap him haha!
"I'm doubling my efforts at sending you naked men from now on. Warning: They might even include a few selfies."
It was nice to have Levee and Sam back and Henry's "biff" with him provided pockets of hilarity. I also loved Carter his body guard. I feel there's so much more to him and the way it was set up, looked like there's potential for him to get his own book.
The Spiral Down is a light and entertaining story of two individuals who had to learn to face their biggest fears and fly to their potential.
Final Verdict:
This review is also available on Goodreads.
Website   |   Goodreads   |   Facebook  |   Twitter
Born and raised in Savannah, Georgia, Aly Martinez is a stay-at-home mom to four crazy kids under the age of five, including a set of twins. Currently living in South Carolina, she passes what little free time she has reading anything and everything she can get her hands on, preferably with a glass of wine at her side.
After some encouragement from her friends, Aly decided to add "Author" to her ever-growing list of job titles. Five books later, she shows no signs of slowing. So grab a glass of Chardonnay, or a bottle if you're hanging out with Aly, and join her aboard the crazy train she calls life.