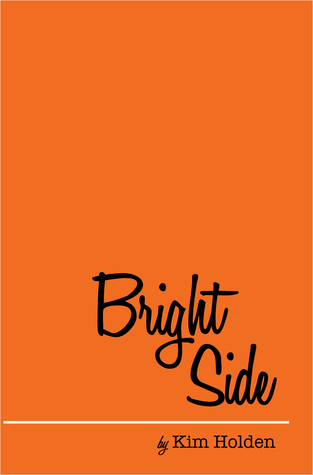 Title: Bright Side
Author: Kim Holden
Genre: Contemporary Romance
Type: Standalone
POV: First Person – Dual
Rating:

Kate Sedgwick moved to a new small town for her college education. With her bright, bubbly personality, she could charm just about anyone. Still, she never really opened up to anyone other than her best friend Gustov (Gus) Hawthorne.
Keller Banks was pretty hard to resist with his good looks and adoring personality. Both he and Kate were attracted to each other yet they tried to resist the pull because both of them have secrets big enough to push them apart.
While dark books feed my soul, the ugly crying ones are like sweet desserts haha! This book is definitely an ugly crier, but the beautiful thing is, it was also very light and funny.
I'm an optimist, but first and foremost I'm a realist. My life will not follow a fairy tale, and that's okay.
I adored Kate not only for her personality but also her strength. She lived up to her nickname Bright Side because she could put positive spin on anything that came her way.
"It scares me how much I like her. She makes me want to say screw it all and re-write my future."
Keller was also wonderful. I love how patient and understanding he was even though he had his low moments.
But my favorite was hands down Gus. He stole my heart from the moment he was first introduced. I love how much he cared about Kate and how much he didn't care about things that are not important in living a meaningful life.
The supporting characters were also equally lovable. Each of them brought something to the table besides just being entertaining.
What I love the most about this book is that it's not exactly a romance but rather a story about life. It's about living it to the fullest and not taking it for granted because life could easily take an unexpected turn.
She's refined the art of enjoyment and living in the moment. I've never seen anything like it. It's breathtaking.
Bright Side is a story about love and friendship that endures through hardships in life. While heartbreaking at some points, the book is ultimately uplifting and heartwarming and hopefully will urge you to see things from a different perspective.
Note:
I don't have a personal experience in the subject matter so I don't know how I would cope being at either side of the story, but I know for sure it requires a lot of strength for all involved.
This review is also available on Goodreads.