Title: Lover Revealed
Author: J.R. Ward
Genre: Urban Fantasy
Type: Book 4 of Black Dagger Brotherhood series
POV: Third Person – Multiple
Rating:

Butch/Brian O'Neal threaded the gray line on a daily basis. He never felt belong in either world he immersed himself in. He wanted more and he was willing to risk it all.
Marissa was an ethereal beauty. Born as an aristocrat, she was poised and well bred. But even her birthright couldn't help save her from being ostracized by the society. She found a kindred spirit in Butch, but her past and his future could either bind them or break them.
I have to admit that I was skeptical before I started this book. I never really cared about him in previous book but now I'm glad for his story because it brought something different to the series.
"You know what I want? Just once, I want to be enough for you. Just… once."
Butch being human was the major reason why I didn't find him special before. I mean, how cool can he be being a mere mortal? But that was also what made him special because his struggles were relatable.
I've always find Marissa to be standoffish. Her social status made her seemed out of reach so I'm glad she had her own struggles to overcome. I love seeing her vulnerability and how she reinvented herself.
He was treading water on the fringes of the Brotherhood's world, unable to fight at their side because of what he was, unable to go back to the human world because he knew too much.
I had a lot of conflicting emotions about Butch. He wasn't special to me because of what he was. But when he decided to do something about it, I wasn't particularly happy because it felt like a betrayal. It did took almost 70% of the book for me to finally root for him and in the end I was glad for his choice because he deserved it.
"You were the only friend I had."
My favorite element about this book was the bond between Butch and Vishous. Their friendship was much deeper that what others could see. However, I am feeling deprived. If you read the series, you'll know what I mean lol! I also love seeing how the new recruits deal with growing pains – some literally.
Lover Revealed is a story of two individuals finding solace in each other and finding their purposes when their own worlds shunned them.
★ Read as part of ShhLYT(F)BR week: PRN Books! ★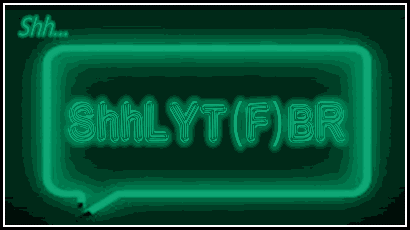 This review is also available on Goodreads.