Title: Bad Boy Revelation
Author: Sloane Howell
Genre: Erotica
Type: Standalone Novella from Alpha Bad Boy series
POV: First Person – Female
Daddy told me not to even look at the man in the corner. He's troubled he said. I wanted to do more than look at him.
I grew up in the church. I was raised better. And I was broken. Oh, was I ever broken. I had a sexual appetite that couldn't be filled. A thirst in me that only sin could quench. I needed him, the man in the corner, to claim me, dominate me, own me.
I'd do whatever it took. Goad him if necessary. I needed that man like I needed air or water. I needed the bad boy.
Copy provided by the author in exchange for an honest review.
As the daughter of a priest, Esther was groomed to be pious. But deep down inside, she was a sinner with her uncontrollable sexual desires.
Bryce was the handyman her father hired to work on the church and their house. He was mysterious and abrasive with a body made for sin that she was ready to indulge in.
Whenever I see books that indicate possible taboo subject, I can't help being attracted to it. This book is scorching hot, like… well, the fiery depth of hell :p
"Forgive me, Father." His eyes were trained on Jesus in the portrait as he thrust his cock to the hilt, drilling into my hot pussy.
Esther had an appetite for rough sex while Bryce had a penchant to dominate. Together, they were an explosion of lust.
I felt the tip part my lips, and then he pressed in a little farther, until he was about halfway in and then pulled back, almost leaving me, before his hand fisted my hair and he drove into me fully.
I like the story of a repressed desire and how the characters succumbed to it. I was fully sated by the rough sexiness, but I wasn't a fan of the ending. It just felt a little awkward in the attempt to tie it up. Sometimes I prefer to be left hanging.
Bad Boy Revelation is a quick dirty read that can fully satisfy any sinners out there.
Final Verdict:
4.5 Golden Cocks
This review is also available on Goodreads.
Read as part of #ShhMaleAuthorEvent 
Join chat HERE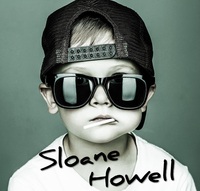 Website   |   Goodreads   |   Facebook  |   Twitter  |  Instagram   |  Amazon
Sloane Howell lives in the Midwest United States and writes dirty stories. When not reading or writing he enjoys hanging out with his family, watching sports, playing with the dogs, traveling, and engaging his readers on social media. You can almost always catch him on Twitter posting something goofy.
Visit his web page http://www.sloanehowell.com to sign up for his mailing list to get updates on new releases, promos, and giveaways. Thanks for reading.