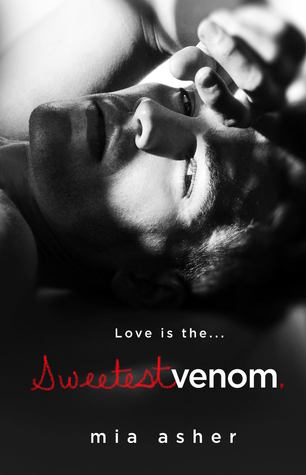 Title: Sweetest Venom
Author: Mia Asher
Genre: Erotic Romance
Type: Book 2 of 2 from Virtue series
POV: First Person – Multiple
Rating:

Blaire White made her bed but she couldn't lie in it without hurting herself or the people around her. She had to make a choice between what she wanted and what she needed. It didn't come easy when both Lawrence Rothschild and Ronan Geraghty were no longer the same men she used to know.
I love books that put me through an emotional wringer. The angst in this one hurt so good, and it certainly felt like the Sweetest Venom.
Her kisses were deceit that tasted like the sweetest venom, her laugh a lure to my demise, and her body the damn devil's playground.
What I love the most about this book is how each of the characters evolved. We got to see the side we never met before – for better or worse.
And these changes were painful. Their vulnerabilities and their dark side forced them to hurt each other directly or indirectly. On one hand I would cheer a character for giving the other one what they deserved. On the other hand, I felt sad that it had to come to that point.
"Give me a thousand lives and a thousand eternities, and I would still find you and make you mine. Always."
In Easy Virtue, Ronan was my favorite. He's still my choice but I couldn't deny that Lawrence managed to fight his way into my heart as well. I was as conflicted as Blaire in making a choice.
Sweetest Venom is a story that will throw you into emotional upheaval following three people learning to grow and recognizing the most important thing that make them happy.
This review is also available on Goodreads.