Title: Cleat Chaser
Author: Celia Aaron and Sloane Howell
Genre: Erotic Romance
Type: Standalone
POV: First Person – Dual
Expected Publication: March 17, 2016
Kyrie Kent hates baseball. She hates players even more. When her best friend drags her to a Ravens game, she spends the innings reading a book… Until she gets a glimpse of the closer—a pitcher who draws her like a magnet. Fighting her attraction to Easton Holliday is easy. All she has to do is keep her distance, avoid the ballpark, and keep her head down. At least, all that would have worked, but Easton doesn't intend to let Kyrie walk so easily. When another player vies for Kyrie's attention, Easton will swing for the fences. But will Kyrie strike him out or let him steal home?
Full disclosure: This is an erotic romance full of hot guys in tight baseball pants, even more guys in tight baseball pants who know how to swing a big stick, and explicit sex.
ARC provided in exchange for an honest review.
Kyrie Kent preferred to read her book than watching a baseball game even when she was right there in the stadium. She had no interest in the game, or the player until she caught the eyes of a player.
Easton Holliday was the pitcher for the Ravens. Seeing Kyrie behind the net spurred something in him and made him wanted to keep her. However, the more he wanted her, the more she stayed away. He would use any resources he had to make sure she saw what he's worth.
I never ever watched baseball and I know nothing about it (to my defend, baseball is not a "thing" in my country) but the promise of men in tight pants and sexy times was too hard for me to resist. Even though the sports aspect did nothing for me, I still certainly enjoyed this sexy read.
Easton wasn't your typical cocky athlete. He was very lovable with his "innocence" and vulnerabilities. He was also opened to see things from different perspective.
I leaned back, away from danger, away from the certain pain that getting involved with a man like Easton would bring.
After being burned in the past, Kyrie tried hard to protect her heart from ever feeling the pain again. I'm glad she was still willing to give it a chance even when she was being too guarded and I wanted to slap her in the face.
Kasey sniffed. "Why do your fingers smell like tasty pussy?"
One of my favorite things about this book was actually the supporting characters. The people in their lives were hilariously irreverent and really added a special touch to the book. My favorite was definitely his sister.
Cleat Chaser is a light sports themed erotic romance story with sexiness and a bunch of funny, lovable characters that will keep you entertain until the very last page.
Final Verdict:
This review is also available on Goodreads.
Website   |   Goodreads   |   Facebook  |   Twitter  |  Instagram
Celia Aaron is the self-publishing pseudonym of a published romance and erotica author. She loves to write stories with hot heroes and heroines that are twisty and often dark. Thanks for reading.
Sign up for my newsletter at aaronerotica.com to get information on new releases. (I would never spam you or sell your info, just send you book news and goodies sometimes). 😉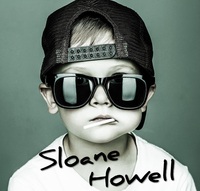 Website   |   Goodreads   |   Facebook  |   Twitter  |  Instagram
Sloane Howell is a writer of erotic and general fiction. He lives in the Midwest with his wife, son & one really cranky cat.