Interview with C.P. Mandara, author of the fascinatingly kinky series, The Pony Tales.
Can you briefly share with the readers who you are behind the author persona?
I'm an outgoing crazy lady who loves baking and travelling. I am an eternal optimist and the glass is always half-full, except when it's half-full of gin and then it should be refilled. I love keeping fit, gyming (I'm aware there is no such word), swimming and running mostly, but occasionally I get my surf board out and head for the waves. I am a summer, beach-type person and my favourite pastime is reading a book whilst listening to music.
Is C.P. Mandara your real name or pen name?
It's my pen name. To this day I'm still not sure how I came up with the surname, I think I'd seen it on some bath foam somewhere – and hence Mandara was borne! I later found out that is an actual surname in a few places around the world, but not a common one. As to the Christina part – well, Christina is a good name. Famous pop stars share it with me, as do pretty girls in the great film 'Deviant.'
Do you have a day job or are you a full time author?
I have a day job. The eBook business doesn't pay all that great unless you're E L James, but I love it, so you'll be seeing me around for some time to come 😉
Do people around you know you're an author? Specifically kinky author. Ever experienced any weird or uncomfortable situation regarding your writing with your family/friends?
No. Writing about pony-girls isn't a great conversation opener lol. Erotica is still a taboo subject in modern society, but let's hope that changes one day. Sexy stuff is fun, right?
Reveal to us your writing style. Do you have any particular ways or rituals in doing it? Maybe tugging your pony boy's tail three times before you start writing? :p
LMAO! I like that idea. I might have to start that! One pony girl, one pony boy and they could also double as really handy foot stools 🙂 In all seriousness, though, I don't have any writing rituals that I'm aware of. I have lots of 'how can avoid writing rituals' – like playing on Facebook, doodling in photoshop and chirping on twitter, but no hard and fast rules about writing. I try to sit down every evening and write something or other, but that's about it. Considering how unorganised I am, I'm generally amazed I get anything done.
You write very kinky books. I'm wondering if you practice BDSM in real life? I want sordid details haha!
Warhawke – you nosy thing, you! Okay, I'm not a 24/7 girl. I dabble and play, and do a bit of research here and there. (Latest research was regarding wax play and boy was that fun – pick your candles wisely gang!) So yes, I have some fun. On a more amusing note, I tend to have a lot of applications for slaves on my twitter feed – guys, while the idea of whipping your asses on a daily basis is really tempting (and it REALLY is!) the day job just won't let me. Maybe some time in the future I can sort that out, though. I've also had applicants for pony-girls and pony-boys, which I find utterly amazing, as they've actually read my books and know how EVIL I am!! LOL.
OMG if you have extra pony-boys applicants send them my way. I could use one or two around the house hahaha! Ok back to the questions…
Pony play is a peculiar kink. What made you choose to write about it? What kind of research was involved? Ever tried on pony girl tack? Lol!
Do you know I first read about it in Anne Rice's 'Beauty Series' and the kink fascinated me. Most of my research was done on http://www.cpony.com and the gentleman's website is amazing. Veterinary play, Basic Training, Dressage, you name it – it's all on there. I don't think the series would have been written without his help. Have I ever tried on pony-girl tack? Err… some parts of it… LOL!
I wonder if you might be on one of the pony play pictures I Googled? lol!
How did you come up with very weird but utterly mesmerizing scenes like the carousel and aquarium scene in The Ties That Bind? Do things like that just float in your head or do people actually do things like that in real life? (If they do please forward me their address haha!)
Honestly, I just have an overactive imagination and a really dark fantasy land that permanently lives inside my head LMAO. The BDSM books take me a lot longer to write than my paranormal romances, and there's a lot of research involved in different aspects of edge-play, but they are so much fun. The only downside of being an erotica writer is that when I'm writing I go around the house permanently horny! As to whether people actually do these things – let's hope so. I'd like an invitation, too, if there are any spare 😉 (Err… perhaps not with regards to the aquarium scene, though. Health and safety. You know.)
So Mark Matthews' story will continue in The Velvet Chair. Can you give us some sneak peek of what the series is going to be about? Can it be read without prior knowledge of the Pony Tales series? Do you have an approximate publication date?
[WARNING: Contains spoiler if you haven't read The Ties That Binds (Book 6 of Pony Tales series)]
The Velvet Chair is going to be told from Mark Matthews, and possibly Jennifer Redcliffe's point of view. It will be written in the first person. As you might be able to guess, Mark isn't going to be a very happy at the thought of his impending nuptials, and I daresay he won't handle that very well – but he has a goal. He reckons he'll get Jennifer to divorce him within a week. How does he plan to do that? Well, that would be telling! Will it be naughty? ABSOLUTELY.
I'm hoping that people will be able to read it without prior knowledge of Pony Tales, but obviously it will read much better if they have. An approximate publication date? When I finish the book. Hopefully at the end of this year 🙂
Do you write any other genres than erotica? If not, do you have any plans to venture out?
Yes. I have just a published Good As Dead which is a dark, paranormal romance novel. Still mean, nasty alpha males, but not so much kinky fuckery. Can I give you a blurb?
Six people want her dead. One vampire is under orders to keep her alive, but he's hungry…and for much more than blood.
Lainey Hargreaves has a secret that she must keep at all costs, a secret that could change the face of the earth—forever. But not all secrets can be kept and when hers begins to escape, she is certain that death will follow. There is only one person that can extricate her from the mess in which she finds herself—a vampire.
Mercer is that vampire. His quick analytical brain will give them a head start against her assassins, but even he isn't confident of success. He needs to discover what Lainey is hiding, unravel her secrets, and earn her trust. She will need to learn to obey his every order without question if they are to stand a chance of success. Where's the best place to start? The bedroom, of course—all women find him irresistible. All women except Lainey, that is. She fights tooth and nail to deny the bright red spark blooming between them, only…
She's going to lose.
Do you have any hidden talent you're proud of (or not)? Deep throating doesn't count!
Darn. Crosses that of my list of many talents. Well, I'm handy with a riding crop and I can make chocolate mysteriously disappear. Do they count?
Uh… if you mean you can make them disappear in a different hole, yeah that counts LMAO!
Ok now let's do something fun! (Well depends on your idea of fun lol!) This or that questions. Feel free to elaborate your answer.
Sand or snow
Sand. I'm a summer girl. Gimme a book, a beach and a my iPhone, and I'm in heaven.
Eaten by zombie or abducted by aliens
Abducted by aliens. There's always the chance they'll be kinky. There's really no going back from being eaten.
Dom or sub
Both 🙂
Single tail whip or cane
Single tail whip
Pain or humiliation
Oh, I love both. If I had to choose… pain. I'm a mini masochist. My pain threshold is reasonably high.
Voyeuring or exhibiting
That's another really difficult question. Dayum. Okay, exhibiting. It's a love/hate kind of thing.
Thank you so much for spending your time to answer and revealing what happened behind your closed door and all the best for your new books!
Click thumbnail for my reviews and purchase links
C.P. Mandara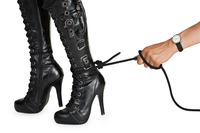 Website  |  Goodreads  |  Facebook |  Twitter  |  Amazon