Title: The Ties That Bind
Author: C.P. Mandara
Genre: Erotica
Type: Book 6 of 6 from The Pony Tales series
POV: Third Person
Will Mark Matthews accept Redcliff's terms for his daughter's release, surrendering both body and mind to the enemy? Petal's sanity depends upon the fact, for in the sixth and final book of the Pony Tales she is to discover that the fate in store for her at Albrecht is not a pretty one.
Shipped off to Leyland Forbes in a steel cage, the pony-girl will have to endure all sorts of imaginative bondage and BDSM at his palatial manor, as her body is photographed intimately by several of the world's top photographers. As the day progresses she will find herself taken out to dinner in chains, before being cleverly and expertly divested of her virginity.
Trouble awaits when she returns to the stables, however. One of the trainers has taken a monstrous dislike to her and intends to prove his superiority, both in the dungeon and beyond.
Escape for Jenny is beginning to seem like an impossible dream…
Copy provided by the author in exchange for an honest review.
Jenny Redcliff's predicament continued as she was thrown into the glitz of Leyland Forbes' property to fulfill his winning bid. It was certainly not a fun and glamorous occasion when she was made into live exhibit.
In the meantime, Mark Matthews struggled with the demand required for Jenny's freedom while he devised plan to gain the upper hand. But he didn't realize the enemy was already one step ahead.
Jenny had to endure some very interesting situations this time around. One of them was being thrust up as a carousel horse. I thought that was something.
Life did not get any more surreal than this. She was being tongued and fingered by a millionaire several times over, six feet underwater, while she was watched and photographed by hundreds of spectators.
Then came the aquarium scene, well, that was even more something. I don't think I can go to aquarium and not imagining dildos spouting from the pebbles anymore haha!
If he wanted to test the theory he could very well be doing so with his life.
I like how I can finally see Mark's unhindered vulnerability – to see how much he could take before he could probably break.
Throughout the series I have been wondering what the purpose of most of the supporting character is, I finally had all the answers in this book and things started to fall in place. The final answer of why he was put in that situation was not answered until the very last moment, and damn, I did not see that coming.
The Ties That Binds is the final book in the Pony Tales series with an open ended conclusion that set forth the precedent of an upcoming (non pony play) series called The Velvet Chair.
Note:
This series is the kinkiest of kink I've read. I had fun learning about items/situation presented throughout the series and some I had to Google and oh yeah, what an eye opener – literally hahah!
Final Verdict:
4.5 Golden Cocks
This review is also available on Goodreads.
Click image to read interview and enter giveaway!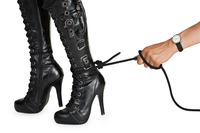 Website  |  Goodreads  |  Facebook |  Twitter
Christina Mandara was born in the UK, but has spent most of her life travelling the world. She speaks three languages and has been chiefly employed in the fields of finance and travel. Her favourite city is Sydney and her favourite holiday destination is the south of France.
She loves keeping fit and enjoys running, cycling and water sports. No, not those kinds of water sports; think surfing or sailing. That doesn't mean that she doesn't enjoy BDSM in all of its glorious forms, be that pony girls, bondage, edge play, orgasm denial or a damn good spanking. Her favourite item in the toy closet (a box simply isn't big enough) is her riding crop.
In her spare time she's usually cuddled up with a good book, exploring the countryside or baking in the kitchen. In fact, she loves her kitchen so much she's one of few woman who wouldn't mind being tied to it! Her first and foremost love is writing, however, and more often than not you'll find her on a laptop spinning tales of romance, erotica or dark, paranormal fantasies.
Those in the BDSM world might wonder whether Ms Mandara is a top or a bottom. Is she currently training a herd of pony boys or is she stabled up, in full leather tack, with the pony girls? It's a good question. Answers on a postcard please or try and figure it out yourself by visiting Ms Mandara's blog:www.christinamandara.wordpress.com