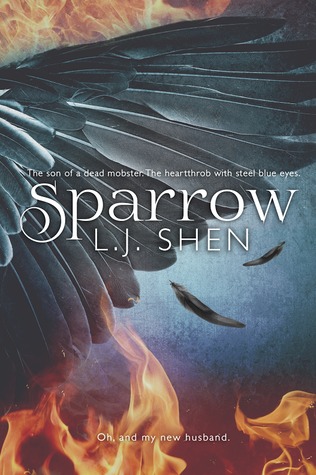 Title: Sparrow
Author: L.J. Shen
Genre: Contemporary Romance
Type: Standalone
POV: First Person – Dual
Expected Publication: March 8, 2016
Troy Brennan
Every southie in Boston knows that name. The son of a dead mobster. The heart throb with steel blue eyes. "The Fixer" who can make or break you in this city.
Oh, and my new husband.
Sparrow Raynes
That's me. No one seemed to remember my name up until he barged into my life.
But then he caged me.
Kidnapped me.
And killed every chance I had to runaway from the place where we grew up.
Put simply, Troy Brennan clipped my wings.
I have dreams, big ones, but I doubt he'd ever let me chase them. I have no idea why he'd decided to take me as his wife. But I do know this: pissing off this man will not do me any good. At all.
ARC provided by the author in exchange for an honest review.
Troy Brennan was the heir of a well known slain Irish mob boss. But unlike his father, he took a different path and left mob life. However, he wasn't far from being an angel. He had a mission to accomplish and one of them was marrying a girl he known most of his life.
Sparrow Raynes was just a plain, regular young woman when she was unwillingly plucked into a different life. Having a hard time adjusting to a new environment, she fought her new husband with nail and tooth. But the stronger the resistance, the stronger the attraction as secrets and lies started to loom over their existence.
Before starting this book I thought it'd be a mob book. It's not really exactly. It has mob elements, but it wasn't the main element of the story. With that said, I did enjoy this one.
I fixed everything. That was me. I was The Fixer.
I really like Troy. He was a pain in the ass, insensitive prick, but that was part of his charm lol! I like his job as a fixer. It made him subtly dangerous than, than advertising it out loud.
I have to say I love the name Sparrow (but not her nickname Birdie lol!) She understood her "responsibility" because she was not a stranger to life in the mob business.  Though she accepted her fate, I like how she still not taking it lying down.
Cat showed up at my bedroom door, leaning her shoulder against its frame, wearing nothing but a suggestive smile and her fuck-me black dress that was tight like an undersized condom.
The story was entertaining, even though it was predictable. I like the evolution in the main character's relationship. I like how the author's writing was very descriptive and it has some sass. I especially like the many amusing analogies used.
Sparrow is a story of two people in a reluctant marriage and how they tried to make it work (in their own ways) despite all the odds against them. It has a very mild dark undertone, but in general a light read that is suitable for the masses.
Final Verdict:
This review is also available on Goodreads.
Goodreads   |   Facebook  |   Twitter
L.J. Shen is a former entertainment and music journalist and your average typical girl. She enjoys the simple things in life, like coffee, wine, reading, spending time with her family and Chris Hemsworth (NOT in this order.)
She lives in Northern California with her small family and chubby cat and writes Happily Ever After books about bad boys and good girls.
She loves talking books with her readers and is actually a very nice person, despite what you may have heard from her friends and family.
Feel free to contact her on Facebook and Twitter: