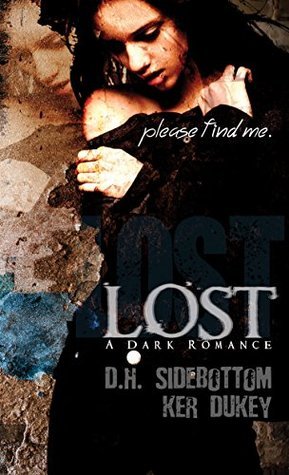 Title: Lost
Author: D.H. Sidebottom and Ker Dukey
Genre: Dark Erotic Suspense
Type: Standalone
POV: First Person – Multiple
Expected Publication: February 29, 2016
We came from nothing and were given a second chance at life, and life was pretty good until it tipped on its axis and my world came tumbling down around me.
My Baby Sister is missing…
Stolen…
Lost…
I've never felt this helpless before now, the vacant hole inside me expanding with each passing second of not knowing where she is.
What's she going through?
Is she hurt?
Suffering?
Alive?
The more I learn of her disappearance the more fear implants itself inside my heart, hardening – darkening.
The world is a depraved place, full of evil lurking behind normality.
Behind smiles.
Behind deception and facades.
She needs me and I will do whatever it takes to find her.
Whatever.
Whatever.
Pre-order at:
ARC provided in exchange for an honest review.
Winter Kelly grew up in a horrific environment with her sister Summer. After being saved and brought to a new home, they flourished as an individual. Winter was well on her way to be in the Police force when Summer disappeared, urging her to do anything to find her sister back.
Cole Jennings was a young officer who helped the sisters during their earlier predicament. He came back into Winter's life to help her find justice. But neither of them realized they tangled web they were in, and The Angel Killer would not make it easy to pass through.
This is only my second collaborative book by the authors, but I can already say, they worked really well together. The story flowed seamlessly; I can't tell it was written by two people, like how some collaboration works can be.
"And if someone has her I am going to kill whoever took her."
I love how protective Winter was of her sister. She was so focused on her task, determined and strong, often to the point of ignoring her own safety. I also love how she has her own darkness.
I like Cole with how he cared for the sisters and how he was struggling with his own "issue". And I love how he was not exactly as straight laced as he appeared to be.
I really like all the supporting characters, both allies and villains. They made the readers question, who to trust and wondering who the perpetrators. Each of them had a role to play. My favorite was Jarod the hacker.
My whole body shudders and weakens with the height of the orgasm. It feels like I'm about to pass out but my head is lifted and a rush of air whooshes into my lungs as I suck in the oxygen.
The book is dark but there wasn't really any graphic scenes that might trigger, except for several edgeplay sex scenes. I have to say they were hot and darkly devious. My favorite was the bathroom scene.
I like the ending, but not the epilogue. I feel like it's unnecessary because it didn't really added anything to the story.
Lost is an engaging story of a cat and mouse game with a good dose of suspense to keep you at the edge of your seat.
Final Verdict:
This review is also available on Goodreads.
D.H. Sidebottom
Website   |   Goodreads   |   Facebook  |   Twitter
Author of The Heart of Stone, Room 103 and Shadows of Sin series, and the new Blue Butterfly series.
D H Sidebottom is a fulltime mum/author. She lives in Derbyshire, England with her children and two dogs.
She is an avid reader and her tastes range from horror to erotic, but she loves to help new authors get into the 'scene'. She loves rock music and tattooed guys, and has a weakness for coffee, wine and Belgium buns
Ker Dukey
Goodreads  |  Facebook |  Twitter  |  Instagram  |   TSU  |  Amazon
My books all tend to be darker romance, edge of you seat, angst filled reads. My advice to my readers when starting one of my titles…prepare for the unexpected.
I have always had a passion for storytelling, whether it be through lyrics or bed time stories with my sisters growing up. We also used to put on performances by acting out stories. I wanted to become an actress from an early age so I could live out many roles but unfortunately I learned early on that my mind was too active…(I would end up wanting to change the script)
I would watch films or TV shows and think of ways they could have improved the story if they took another direction so I thought it best that I tell my own.
My mum would always have a book in her hand when I was young and passed on her love for reading, inspiring me to venture into writing my own. I tend to have a darker edge to my writing. Not all love stories are made from light; some are created in darkness but are just as powerful and worth telling.
When I'm not lost in the world of characters I love spending time with my family. I'm a mum and that comes first in my life but when I do get down time I love attending music concerts or reading events with my younger sister.
Come find me on facebook where i love interacting with my readers.