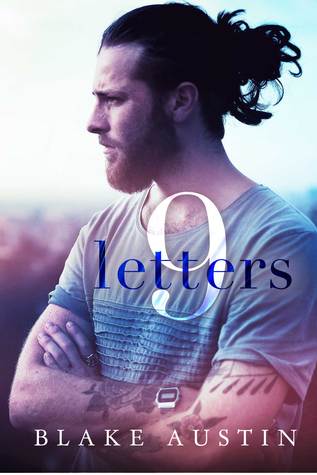 Title: Nine Letters
Author: Blake Austin
Genre: Contemporary Romance
Type: Standalone
POV: First Person – Male
Expected Publication: Feb 24, 2016
Luke Cawley is a broken man. After his wife's tragic death, he lost everything that mattered in the world. Now, his life is filled with hard days, harder nights, and a steady stream of alcohol and the wrong kind of women. Nothing helps.
Until the letters arrive on Luke's doorstep.
Nine envelopes. Nine messages. Nine chances to find his way back.
Rae Goode is looking for the real thing. After fighting her way out of a string of bad relationships, she's ready for something different–something true.
She meets Luke while piecing her life together, and right away she can tell that he's different. Drawn together by fate and the desire to heal, Rae and Luke discover new ways to mend their broken hearts–one letter at a time.
Pre-order at:
ARC provided in exchange for an honest review.
Luke Cowley was an ambitious young man with a whole future in front of him. But the death of his beloved wife tipped his life off balance. He filled his life with meaningless acts, no longer caring for anything that used to be important to him. On the anniversary of her death, he found a box on his doorstep containing nine letters written by his late wife, taking his life into another turn.
I was first attracted to this book by the cover. Man bun and tattoos are very sexy lol! Then I read the blurb, I knew I need to read it because I just can't resist the lure of a sad book.
I knew Emily was dead. But these letters, they were probably the last words she'd committed to paper, and they traced her downfall as she'd come to terms with her own death. I was reliving her last days, and I wanted her story to end differently. I wanted our happily-ever-after.
I love everything about Luke. He grieved on his own, letting the pain fester inside him. He shut off from everyone and moped in his own misery, until the letters urged him to do tasks to take back his life.
I met the love of my life, and then thought she was the only chance I had to be happy. Then she died. And now? Now I'm learning a whole new way to be happy.
Rae Goode became a burst of silver living when she came into his life. She made him started to care again.
I really love the story, but I'm having a really hard time reviewing/rating this one because I feel like this book has some kind of identity crisis. If it's supposed to be a romance, it certainly not the traditional kind.
The book focused on Luke and his past – the love between him and his wife. It's about how his dead wife guided him to heal through the letters. Rea became a secondary character because there wasn't enough of her to be the lead. It's a story about him, not about them. Whether it was on purpose of not, I am not sure. There's also the unresolved issue with the sister. Despite all that, I still think it's a beautiful story.
Nine Letters is a sorrowful yet uplifting journey of a man rediscovering life after losing half of his soul, giving him hope that healing can come from an unexpected method.
Final Verdict:
This review is available on Goodreads.