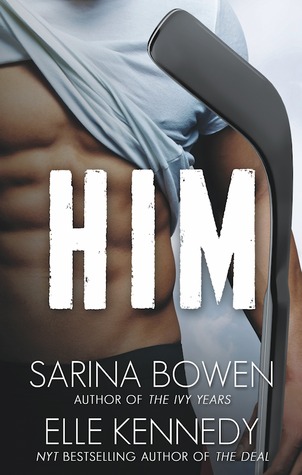 Title: Him
Author: Sarina Bowen and Elle Kennedy
Genre: M/M Contemporary Romance
Type: Standalone Book 1 of Him series
POV: First Person – Dual (Male)
Rating:

Ryan (Wes) Wesley and Jamie Canning met at an exclusive hockey camp every summer since they were young. For the duration of their stay, they were the best of friends. They worked hard and played equally hard. Their friendship seemed unbreakable until a challenge pulled them apart. Four years later, they were forced to face each other again and it was time to finally clear the air.
I have officially popped my full m/m book cherry woohoo! I have always been fascinated by it and enjoyed scenes from other books, but was still reluctant to commit to a full m/m romance book. And I'm glad that I believed I chose the right one to open the door to the double cocks world lol!
It's obvious I can't be around Canning without wanting him. Without wanting more.
Both of the characters were different but complimentary to each other. Wes had the bad boy vibe, who was crazy and spontaneous. And he was the gay one.
Jamie on the other hand was the cool as a cucumber straight one. He was also very attentive to people around him. And I love his family. I don't think I can choose between them because I like them equally.
Jamie Canning was my first crush and my first love. But he was never mine to have.
I really like the premise of the book, however I do feel it was a little too light for my personal liking. Considering Jamie's situation, I was hoping there'd be more angst and confusion. His "transition" was too smooth. I'd also prefer to see bigger issue being brought up concerning their relationship.
When it comes to the sexiness, I have absolutely no complain. The scenes were so hot it could melt the ice rink! I'm just going to say this:
I wish I was a gay man. Wait, scratch that. I wish I was a bisexual man – I need variety hahaha!
Him is a light and sexy M/M sports romance with a friendship and love that was equally amusing and heartwarming.
This review is also available on Goodreads.