Title: A Rough Ride
Author: C.P. Mandara
Genre: Erotica
Type: Book 5 of 6 from Pony Tales series
POV: Third Person
Who will have the pleasure of training Petal? By rights, the honour should go to Mark Matthews, but the cowboy has other plans. The matter is not settled until the stable owner is brought into the fray.
It is to be a monumental first week for Albrecht's newest trainee. The pony girl will have two days to find a way of coping with her new latex bodysuit and the rigorous buzzing and pumping of the never-ending 'device' which torments her every waking moment. She will then find herself shipped off as a sex-slave, chained and caged, to the mysterious high-bidder from the auction.
It doesn't take Petal long to realise that her chances of escaping from Albrecht are slim at best, but her defiant nature won't let her give up hope just yet. There is a way out for her, but she may have to give up more than her sanity in order to achieve it.
Copy provided by the author in exchange for an honest review.
After the dispute at the auction, the decision of who would be Pretty Pink Petals trainer was brought up to the highest power – the owner of Albrect Stables. His identity and his decision could possibly break her fighting spirit at last.
Petals certainly put through a rough ride in this book. I felt sore all over just reading about her predicament – and not the good kind of sore haha!
'The suit encompasses two generous plugs, both of which will pulse, vibrate and elongate at random intervals. It also features a clitoral stimulator and massager, which will tease our little pony to the brink of orgasm again and again over her forty-eight hour period of confinement, tormenting her to exacting standards. She will not be allowed to orgasm'
The most fascinating item on this one was the suit. It was her punishment for disobedience. As much as it was interesting, I do wonder (as far as I remember there was no mentioned of it) how she deal with going to the toilet lol!
Petals' new trainer certainly didn't give her a break. He pushed her to the limit until she started questioning her own survival. But someone was determined to save her, though the price to pay might be higher than ever expected.
Final Verdict:
4 Golden Cocks
This review is also available on Goodreads.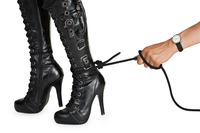 Website  |  Goodreads  |  Facebook |  Twitter
Christina Mandara was born in the UK, but has spent most of her life travelling the world. She speaks three languages and has been chiefly employed in the fields of finance and travel. Her favourite city is Sydney and her favourite holiday destination is the south of France.
She loves keeping fit and enjoys running, cycling and water sports. No, not those kinds of water sports; think surfing or sailing. That doesn't mean that she doesn't enjoy BDSM in all of its glorious forms, be that pony girls, bondage, edge play, orgasm denial or a damn good spanking. Her favourite item in the toy closet (a box simply isn't big enough) is her riding crop.
In her spare time she's usually cuddled up with a good book, exploring the countryside or baking in the kitchen. In fact, she loves her kitchen so much she's one of few woman who wouldn't mind being tied to it! Her first and foremost love is writing, however, and more often than not you'll find her on a laptop spinning tales of romance, erotica or dark, paranormal fantasies.
Those in the BDSM world might wonder whether Ms Mandara is a top or a bottom. Is she currently training a herd of pony boys or is she stabled up, in full leather tack, with the pony girls? It's a good question. Answers on a postcard please or try and figure it out yourself by visiting Ms Mandara's blog:www.christinamandara.wordpress.com