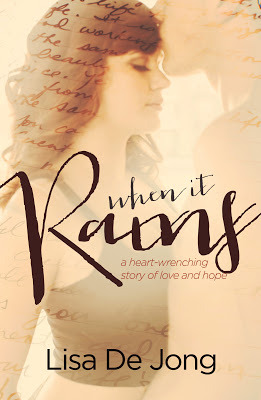 Title: When It Rains
Author: Lisa De Jong
Genre: NA Contemporary Romance
Type: Standalone Book 1 of When It Rains series
POV: First Person – Female
Rating:

Kate Alexander and Beau Bennett had been best friends since they were kids. They told everything to each other until one day Kate had a secret she couldn't part with. A secret that pulled her apart from everything that was good and changed their relationship.
Salvation came in the form of a new guy in town. Asher Hunt breathed new life into Kate. But he came with his own secret that could tear them apart.
I wanted an ugly crying book, I certainly got one with this even though it was more on the mild side lol!
There's a difference between soul mates and true love. Looking at the surface, they are similar, but when I dug deep down inside, I found they were different. 
Is one type of love better than the other? I don't know but I'm lucky enough to have found them both.
I do like Kate, but throughout the book I wasn't happy with a lot of the decisions she made. She put herself in a corner and wallowed in her own misery. I understand what she went through was hard, but it was also hard to see how she was stuck on it.
He just wants what's best for me, but I hate that he keeps sacrificing his own happiness to give it to me. I don't deserve it.
I love Beau. He was sweet, caring and highly understanding. I wanted every best thing for him because he deserved it.
As much as I love Beau, Asher stole my heart. From the moment he was introduced, he captured my attention. I love how he made Kate opened up and how they healed each other.
We're two people who aren't happy when we're apart, but can't seem to get things right when we're together.
When It Rains is a beautifully heartbreaking story of friendship and love of three young individuals who are just trying to find their feet in this world. It will make you appreciate the people around you because you'll never know when life could turn you upside down.
Note 1: This is not a love triangle
Note 2: I love the napkins thing
Note 3: My eyes are a bit dry from the moisture loss hahah!
This review is also available on Goodreads.